Side Menu Ends, main content for this page begins
Back to Side Menu (includes search)
Congrats to our Highlander Award Winners
Posted on: November 8, 2018 8:00 am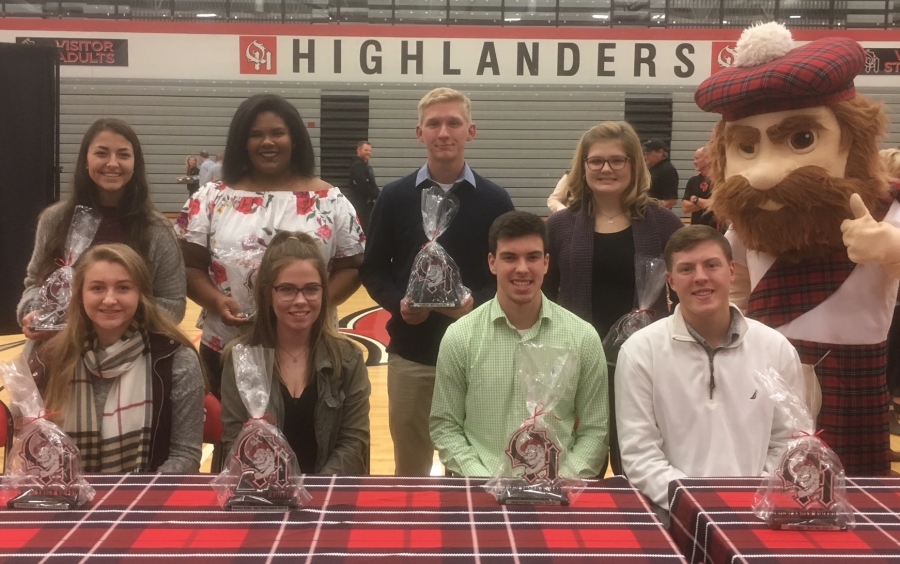 Congratulations to our Highlander Award winners for the 2018 Fall season which were presented to our Varsity student-athletes at Monday night's Fall Awards program!
The Highlander Award is not an MVP Award in the traditional sense, but rather a recognition of the person that exemplifies the best of what a coach wants in his/her players. The Highlander Award is given to the person in each program that best exemplifies the Heart, Attitude, Passion, and Leadership that every team needs to succeed!
From Left to Right, Front to Back:
Allyson Albertz - Girls' Soccer, McKenzie Becker - Girls' Cross Country, Balor Appiarius - Football , Zach Rudolf - Boy's Golf, Thalia Georges - Girls' Volleyball, Julia Galloway - Girls' Tennis, Dan Moster - Boys' Soccer, Lily Lang - Girls' Golf Not Pictured: Sam Seibert - Boys' Cross Country
We also awarded Community Highlander Awards to Amy Roy of O'Charley's and Dr. Fernando Martinez of Martinez Orthodontics for their support and commitment to
Highlander Athletics!