Oak Hills High School News
Highlander GMC Athletes of the Week
Posted on: September 3, 2019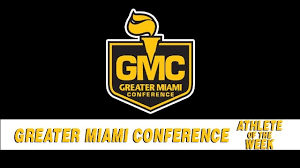 Congratulations to the following Highlanders who were named GMC Athletes of the Week!
Everett Black Sr Boys' Cross Country
Everett has battled through a challenging last couple weeks of running, but didn't let that set back define his performance. He showed up huge for the team on Saturday, breaking 18 minutes and finishing 4th for the team.
Caroline Eichhorn Sr Girls' Tennis
Senior captain, Caroline Eichhorn, went 3-0 this past week, which included clinching the win against Princeton in a 3-2 dual match. Caroline is currently 6-4 on the season while playing with four different doubles partners throughout the season. Caroline is also a class officer, a member of NHS, and a member of the varsity swim team.
Rees Hayes Sr Boys' Golf
Senior Rees Hayes led the Highlanders in a win over Hamilton Badin with a -1 round at Twin Run GC. Rees is a multi sport athlete as he plays for the Highlanders Baseball team. Rees excels in the classroom and has 3 straight Academic O's.
Sydni Crass Sr Girls' Volleyball
For the week, Sydni tallied 26 digs and one service ace. She also carries a 4.0 GPA. Sydni is a member of NHS and Partners Club which works with special education kids.
Sebastian Bachler Sr Football
Sebastian led the Highlanders defensively with 14 tackles. He also helped generate three, four & outs along with a goal-line stand in a tough loss against East Central. Sebastian carries over a 3.0 GPA.
Molly Sheridan Jr Girls' Soccer
Molly has started and played every minute at center back this season for us. She is a vital part of the team's success on shutting down the opponent's attack. She had a great game at Seton this past week as an anchor on our backline. Molly also takes 2 AP courses and 1 honors course.
Alyssa Hammond Fr Girls' Cross Country
Freshman Alyssa Hammond scored as the team's number 2 runner for the first two races of the season. Alyssa helped the team to a 2nd place finish by placing 7th out of 130 athletes at this past Saturday's Lebanon Invitational.