Oak Hills High School News
Highlander GMC Athletes of the Week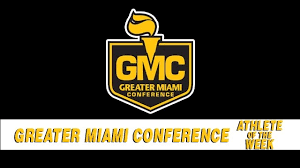 Congratulations to our Highlanders who were named GMC Athletes of the Week!
Paul Nienaber Boys' Tennis Soph
Paul started off the season going 5-0 at second singles. This past week he defeated St. Xavier "B", Lasalle, Lakota East, and helped clinch the state team tournament match against Wilmington. When Paul is not playing tennis, he spends time volunteering at Juvenile Diabetes Research Foundation.

Garrett Kessling Boys' Lacrosse Fr.
Garrett was a huge part in the varsity's win vs Elder as his play at the face-off was a key contributor in the second-half comeback win. He also did well at face-off in the loss vs Mason. Garrett also played great defense in both games at the defensive midfield.

Wyatt led the Highlanders in the mound to a HUGE conference win on opening day. Wyatt didn't give up an earned run in his 6 innings, allowing only 3 hits , and striking out 7. Wyatt was the winning pitcher as the Highlanders defeated the Lakota West Firebirds 2-1. The following day, Wyatt entered the game as a hitter with the Highlanders trailing 3-2 and blasted a 1-0 pitch over the wall to give the Highlanders the lead 4-3. Wyatt is also 4.0 student.

Morgan Dornbusch Softball Jr
Morgan has played a big role for the Highlanders. She has had to come in to relieve the starting pitcher and to shake things up on the other teams lineup. Morgan has gone against some of the top hitters throwing them off on her movement and speed change. This allowed the other pitcher to come back in after a few innings and change pitching speeds again. Morgan is a tremendous leader by both her vocal leadership and her trust in doing what's needed to put the team in the best spot to win games. Morgan is truly a selfless player and hard working pitcher.

Morgan White Boys' Track Fr
In only his second high school track & field meet, Morgan showed great confidence and fearlessness. He raced straight to the front of the pack in the 800m at the Ross All-Comers invitational, setting the pace for the whole field. He ran a very smart and courageous race, finishing 3rd overall.

Sophia Elchynski Girls' Track Sr
Sophia had a great day at the Ross All-Comers invitational last week. She threw her personal best in discus, placing in the finals and earning team points. Sophia's focus and work ethic are going to propel her to a great culmination of her high school career.