Side Menu Ends, main content for this page begins
Back to Side Menu (includes search)
Highlander GMC Athletes of the Week
Posted on: April 11, 2023 8:00 am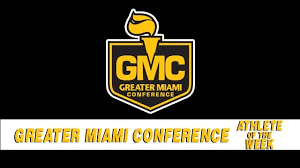 Congratulations to our Highlanders who were named GMC Athletes of the Week!
Riley Williams Girls' Track Jr.
Riley was a huge support to her team on Friday at Sycamore by performing full time duties. She competed in 4 events: 4x100, 4x200, 4x400 and 200m. All of the relays placed in the top 8. Not only is Riley a very versatile sprinter, but her willingness to sacrifice for her team shows great leadership quality.
E.J. Williams Boys' Track Jr.
EJ was the third leg of the school record setting 4x800 relay at the Sycamore meet. He ran a new personal best of 2:01.7. A couple hours later, EJ placed 6th in the 3200m in a time of 10:11.30, which was another massive personal best.
Abby Bode Softball Sr.
Abby Bode has been an offensive threat for the Highlanders. She is hitting .529 with 2 homeruns, 3 doubles and a triple. She has a current on base percentage of .619. On top of a solid start offensively, Abby is fielding 1000 at second base. Abby is one of the captains who have guided the team to the 6-0 start. She stands out not only on the playing field but in the classroom as well. Abby has a 4.0 gpa and will graduate in the top 5% of her class, currently ranking number 15 in her class.

Brandon Stidham Baseball Jr.
Brandon has provided steady play at 1st base, some timely hitting and even pitched a scoreless inning of relief. He leads the team in batting average with a .357 hitting average. He is a 3 sport athlete (Baseball, Basketball, and Football) and has a 3.5 GPA.