Bridgetown Middle School News
Route for the Oct. 2 Homecoming Parade
Posted on: September 27, 2019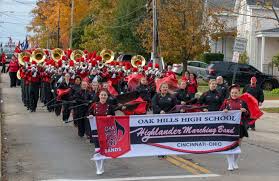 Homecoming 2019 kicks off with the Homecoming Parade, which leaves from C.O. Harrison Elementary at 6 p.m., on Oct. 2.
Here's the route:
From the C.O. Harrison parking lot, left onto Neeb Road
Left to Muddy Creek
Right to Westbourne
Left to Greenway
Left to Woodhaven
Right to Moonridge
Left to Lawrence
Left to Ebenezer to Oak Hills High School parking lot
From the CO Parking Lot...a left onto Neeb Rd to Muddy Creek.
A left onto Muddy Creek to Westbourne
A right onto Westbourne to Greenway
A left onto Greenway to Woodhaven
A left onto Woodhaven to Moonridge
A right onto Moonridge to Lawrence
A left onto Lawrence to Ebenezer
A left onto Ebenezer to the Oak Hills Parking Lot