5,000 thank yous to Dunkin'
Posted on: October 8, 2019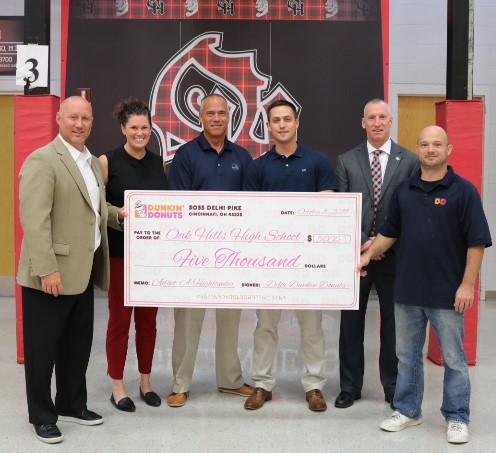 Michael Benhase, franchisee of the Delhi Pike Dunkin', heard about OHHS's Adopt A Highlander program -- and stepped up with a $5,000 check.
Mr. Benhase first heard about Adopt A Highlander when OHHS teacher Meghan Sullivan spoke about it at a Delhi Business Association meeting. "She gave an impassioned speech, and made all of us aware of the need," he says. "This is such a compelling reason to give -- a student who needs to eat. We get a lot of requests for donations, but nothing is more powerful than this."
Now in its seventh year, Adopt A Highlander provides lunches for OHHS students who can't afford them and otherwise would go without. It started out of a Challenge Day built around a theme of poverty and hunger. "Those themes were presented to students on a local, national and global level, and our students really grabbed onto the local part because they found out there were kids here who weren't eating lunch," says Mrs. Sullivan. "It's about having empathy for the people right around you."
The lunches cost $3 per day and include either a plate lunch or a wrap. To donate: Make a check out to Oak Hills High School with 'Adopt a Highlander' in the memo line, and send to OHHS, 3200 Ebenezer Road, Cincinnati 45248.