Inclement weather reminders
Posted on: November 20, 2018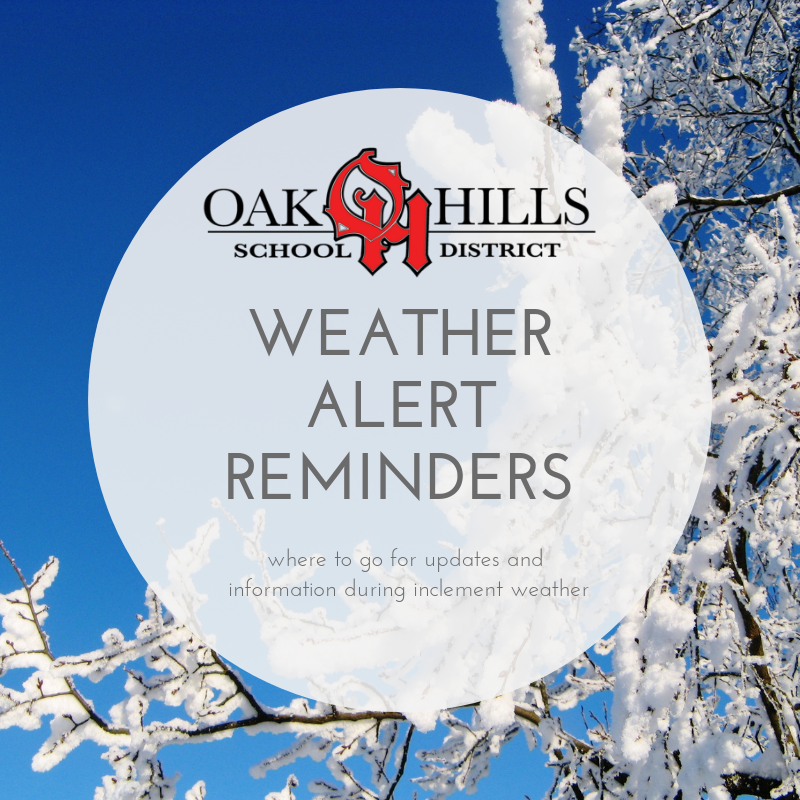 As the winter weather can often be unpredictable, we'd like to take this time to remind you of our protocol for sharing updates about weather-related delays and cancellations. There are several places you can go to find district information including:
One Call Now - our parent notification system pulls the primary contact's land line, cell phone and email address.
Facebook at @OakHillsLocalSchoolDistrict
Twitter at @OHLSD
Instagram at @oakhills_hs
Free Oak Hills app: search Oak Hills Local Schools in your app store
Local news media outlets including TV and radio
More details about One Call Now
Please note that only the primary contact can add additional numbers to their One Call Now Account. If the primary contact wants to add additional phone numbers to the system they need to complete the following steps:
Create an account at https://www.mycallnow.com/
The primary contact must use the email and phone number that is currently in the One Call Now System (this is how they system verifies you are able to create an account)
Primary contacts can add up to five additional phone numbers and email addresses.
Phone numbers and email addresses are verified by the system before they are added to our distribution list.
If you are not receiving notification about school delays and closings, please contact your building to make sure your contact information is correct.
A few things to note:
If cell phones are off or out of service area text messages will not be delivered.
Certain email carriers still have known issues with emails being pushed out to users (Yahoo, Fuse.net). This issue is on their end and One Call Now is blocked. We have no control over this.
Parents, if you have opted out of receiving text messages and want to opt back in they text ALERT to 22300. If you want to opt out of receiving text messages, text STOP to 22300.