Teacher Support In Reading Development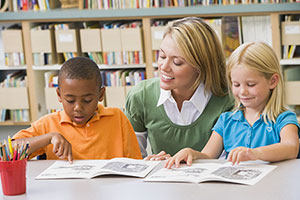 Teachers offer key support and work together with parents to help their child's growth and development. With respect to reading, teachers serve as experts in knowing how to: help a child develop the requisite skills to read, diagnose and provide interventions for struggling readers, and challenge and stretch advanced readers. More specifically, teachers may offer suggestions to parents about specific resources available online, at school, or in the community that will strengthen students' reading skills and attitudes about reading. Building and fostering productive and positive relationships with your child's teachers is a critical first step in supporting your child's development in reading.
To learn about the specific program materials, resources, interventions, and philosophies about reading in our district, we invite you to contact your child's teacher. Set-up a time to meet and take that first step in building that key relationship.