Side Menu Ends, main content for this page begins
Back to Side Menu (includes search)
"Hunting the Unexpected' at the Fitton Center for Creative Arts
Posted on: November 15, 2022 3:00 pm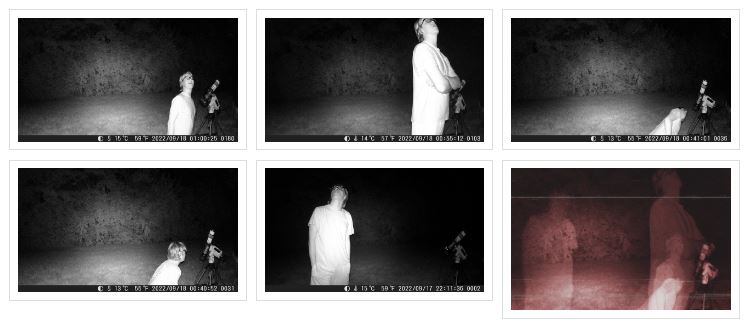 Trail Cameras Project
FREE Gallery Opening and Artist Talk: Saturday, November 19, 11:00 – 1:00
The Fitton Center introduces a project inspired by artist Alyssa Salomon in which artists from four high schools turn trail camera images into a Community Gallery exhibition. Artist Talk and Q&A. Features student work from Badin, Butler Tech School of the Arts, Hamilton, and Oak Hills High Schools.
Trail cameras are high-quality devices that are used to track wildlife creatures in their natural habitat with minimal disturbances. They use infrared technology to capture footage quickly for a variety of uses. Studio Art AP 2D Design Photography students were challenged to select a routine daily activity that occurs in the home environment or other environment they spend significant time in and make that the subject of their photograph. They used the trail camera to record the unexpected events that transpired in that space.
Andrew Wubbolding
Ghostly Figures
Artist Statement:
The prompt was "Recording the Daily." Pick a daily activity that happens in your home environment or any other environment that you spend significant time in, and make that your subject. The daily activity that I choose that I spend significant time in is Astrophotography, specifically setting up and the process through doing Astrophotography. I plan on getting pictures of the process of setting up for Astrophotography, but adding a creepy factor to it. Almost as if the trail camera took pictures of ghosts. The idea for this project was to take 5 pictures with the trail camera and stack them on top of each other and drop the opacity of the layers to make the subjects see through, like ghosts. In my process, I practiced with different filters and adjustments in photoshop, camera raw filters, and different pictures from the internet to overlay on the picture to add different effects. experimented with the contrast of the image, the color balance of the image, and the options in Camera Raw Filter. As I was working, I revised the opacity of each image because if I did 50% opacity for every image, I would eventually disappear from the image. When I did different opacities for every image, I was able to make each picture somewhat translucent but you could still see me in every picture. I also changed how grainy the image was. Initially, the image is pretty clear, but because I was going for a creepy look, I made the image more grainy to add that creepy factor.