Oak Hills High School News
10__Women at 3 Points Urban Brewery: July 11th, 6-8 pm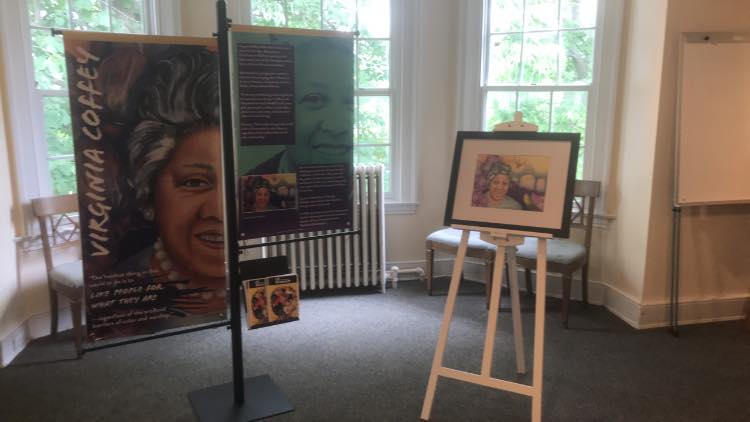 10 ___ Women, funded through a People's Liberty grant, seeks to celebrate the first class of 10 historic women who had an impact on Cincinnati. In this traveling gallery, Jeff and Kristin Suess feature 10 remarkable women from Cincinnati that history has otherwise forgotten. Each woman is featured with a commissioned portrait from a local artist and biographical information.

Women's accomplishments and contributions have often been forgotten or overshadowed. It's something that Jeff Suess, the librarian from The Enquirer, has noticed in his historical writings. He and Kristin, an arts administrator, would often talk about this issue. Those conversations led to this project. They want everyone to talk about these women.

OHHS Art and Design teacher, Jamie Schorsch, was recently selected as one of the region's female artists participating in the inaugural 10___Women Project to create a portrait of Virginia Coffey.

Artist Statement:
Virginia Coffey was an American social reformer and civil rights activist who worked for improved race relations in and around Cincinnati, Ohio. Virginia arrived in Cincinnati in 1924 to teach at an all-black school, one of the few opportunities for African-American teachers. Instead of finding a progressive northern city, she found a segregated city. Virginia fought to integrate areas of the city, including Coney Island where she coordinated an event protesting the segregation at the gates of the park. In addition to the multiple committees and organizations that Virginia partnered with throughout her life, she formed the first Girl Scouts troop for African-American girls and became the first woman, and first African-American, Executive Director of the Cincinnati Human Relations Commission in 1968. Throughout her life Virginia worked to achieve her goal of getting people to listen to each other, getting to know each other, and treating each other as human beings.

The portrait created as a representation of Virginia Coffey's impact includes symbolism related to the Coney Island protest and her role as a leader for the Cincinnati Human Relations Commission in bridging the gaps of a divided community. The divisions of the landscape become united by color. Gladiolus, a symbol of faithfulness, sincerity, and integrity, frame the image of Virginia, calling emphasis to her strength of character and perseverance. Symbolic association with the Girl Scouts emerges from behind the gladiolus as a sign of her fostering and growing similar characteristics amongst young women. The Canaries, representing the power of voice, illustrate a connection with freedom and inspiration of Virginia's message being carried through generations.

Join us to talk about these women and their portrait artists Thursday, July 11th at 3 Points Urban Brewery, from 6-8 pm. Banners with biographical information will be on display inside the brewery July 8-15th.