Oak Hills High School News
2017 World History Day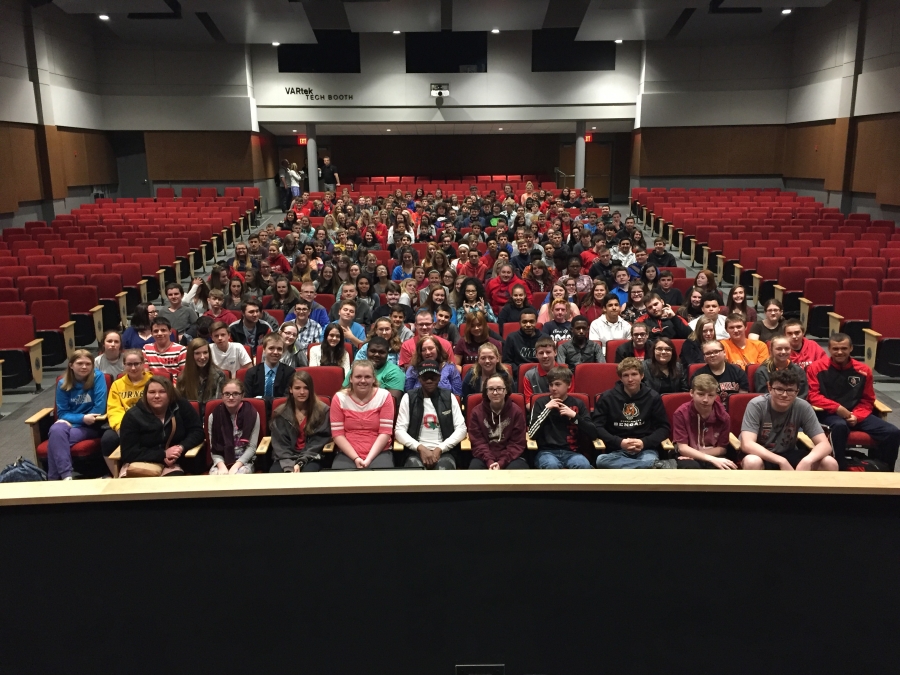 The fifth annual World History Day concluded Tuesday, May 9, 2017 at Oak Hills High School. Oak Hills' freshmen history students concluded a three-week unit on international topics of importance. Each student was introduced to a short snapshot of a critical global issue. For example, students investigated poverty and hunger, world terrorism, environmental issues, human and women's rights, ethnic conflict, health epidemics and media and technology. Students were then asked to pick the topic that most interested them and further research the problem from a 2017 perspective. "As a team, our goal was to help students see that events of the present have been formed by events of the past," history teacher Kenyon Commins said.
In addition to the 2017 research, students were asked to connect their global topic to an event or time period in world history. They were asked to analyze the similarities between the historical event and the topic in the year 2017 utilizing primary source documents, statistics and reliable quotes from international figures. And lastly, the students created a debate question in the realm of their global issue. They researched at least two sides of the argument. "Our hope was that students would recognize that no issue today has a black and white solution," history teacher Amanda Hogel added. The freshmen students were required to create a tri-fold presentation and display the final product on May 9 at the World History Day event. If you'd like to learn more about the project, please visit the World History Day website at https://sites.google.com/a/ohlsd.org/history-day/
As part of the project, students were asked to find a local connection to their global topic. After doing so, they were asked to invite a person or member of a specific organization to attend World History Day. "This year we had a tremendous outpouring of community support, history teacher Lauren Karas said. "A wide variety of community members were present."
Representatives from the Cincinnati Homeless Coalition, Green Township Police Department, Cincinnati Bell, Freestore Foodbank, Women Helping Women, the U.S. Military, the IJPC, the Academy of World Languages, Neyer Management and the Greater Cincinnati Water Works attended and participated in the students' learning.
The day was capped off by a speaker from the Greater Cincinnati Homeless Coalition. Dr. Mark Mussman, education director, and Melissa Mosby, a championed Homeless Coalition speaker, addressed the students. "Our students are very lucky to hear Dr. Mussman and Ms. Mosby's experiences, history teacher Alan Cocklin said. "These individuals have a unique perspective on homelessness that our students rarely see." Ms. Mosby discussed her journey as a person experiencing homelessness and explained the circumstances she struggles with on a daily basis. Dr. Mussman framed the discussion with a call to social action.
Kayla Robinson, a freshman student at Oak Hills High School, shared, "Melissa Mosby was amazing. Homelessness is a bigger problem than kids think and our community needs to do a better job helping this population. She was inspiring and encouraging. I learned a lot."
Meghan Sullivan, history teacher at Oak Hills High School, added, "History class shouldn't dwell only in the past but should help us frame our present and future experiences. World History Day challenged our students to take their learning into their community, reflect on it and analyze how it fits into their everyday lives."
Oak Hills High School is part of the Asia Society's International Studies Schools Network (ISSN). Along with several schools nationwide, students work to investigate the world, recognize different perspectives, communicate ideas to larger audiences and take action. This program fits perfectly into the mission of the school district that "All Oak Hills High School students will achieve success by graduating with a shared sense of global awareness and the critical skills to be career and college ready."