Side Menu Ends, main content for this page begins
Back to Side Menu (includes search)
2020 Ohio Governor's Youth Art Exhibition OHHS Art and Design Winner!
Posted on: May 11, 2020 9:00 am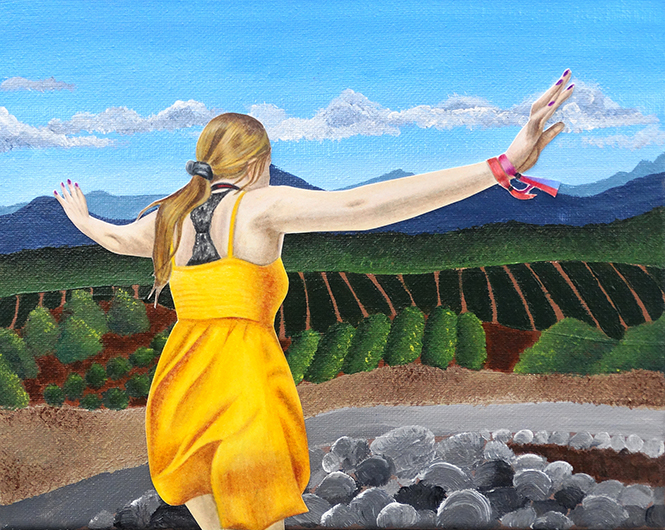 This year's state-level of judging for The Ohio Governor's Youth Art Exhibition was delayed, but has finally taken place!. The Exhibition is dedicated to the educational and artistic advancement of our talented young people in the state of Ohio. The exhibition is open to all of Ohio's 1,112 high schools, both public and private, chartered by the State of Ohio Department of Education. The exhibition is a valuable incentive for our young people; it encourages an appreciation for the arts throughout Ohio and reflects the fine quality of art instruction and talent which exist in our state.
The process of selecting artworks for the state exhibition begins on a regional level. The state is divided into 15 regional locations, with high school students in each region invited to enter work in that regional judging. Each region has a designated Regional Director, who is responsible for choosing the judges for his or her region and arranging specifics of the event.
The state judging takes place in Columbus; however, the judges for this level of competition are chosen from all over the country and are generally professional artists, college-level instructors, or both.
From the 11,500 regional entries from the 15 regions, approximately 2,500 are selected to enter the state judging. State jurors then selected 300 for the actual exhibition, with 25 of the 300 chosen to receive the Governor's Award of Excellence. Scholarships are offered to seniors by over 30 universities and colleges of art.
Congratulations to Emma Sedlack on the selection of her piece, "Finding Freedom" for the state level exhibition. This year there will be a digital exhibition of the Top 25 state selections as well as 42 state selections from our region!