Side Menu Ends, main content for this page begins
Back to Side Menu (includes search)
Highlander GMC Athletes of the Week
Posted on: August 21, 2019 11:00 am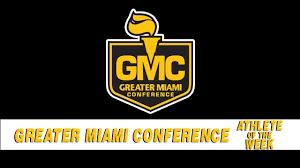 Congratulations to our Highlander athletes who were named GMC Athletes of the Week!
Abby Linenkugel Fr. Girls' Soccer
Abby, as a freshman received her first Varsity start this past week at Walnut Hills. She started at outside back and played the majority of the game. Abby will be a big contributor to this year's Oak Hills Girls Varsity soccer team. Abby is also an excellent student taking all Honors classes.

Joey Siegel Sr. Boys' Golf
Senior Captain Joey Siegel led the Highlanders to a 4th place finish at the Cooper (KY) Invitational with a score of 80.
Devin Fitzgibbon Jr. Boys' Soccer

Devin netted our season's first goal from 30 yards out on a beautiful strike in the opening 3-0 victory against Winton Woods. In addition to scoring, he is controlling the center of the field by possessing the ball under continuous pressure. Devin's distribution, high work rate for supporting his teammates, composure under pressure, and field awareness are reasons the team started with a successful opening campaign.

Molli Malone Soph Girls' Tennis
Molli picked up her first two career wins this past week at first doubles over Turpin and Mount Notre Dame. She also lost in a three set thriller to Sycamore "Green." Molli has a 4.0 GPA while also being a member of the Partner Club and Key Club.
Samantha Nuss Soph Girls' Golf
Sam is a stand-out on the Varsity golf team. She's golfing in our #1 spot as a sophomore. She has consistently been our medalist in 3 of our first 4 matches (tied in the 4th match). She scored a personal best in the Sycamore Invitational Tournament! She's enrolled in rigorous classes, including several Honors courses and works hard to put her academics first as a standout student-athlete!