Side Menu Ends, main content for this page begins
Back to Side Menu (includes search)
Highlander GMC Athletes of the Week
Posted on: August 28, 2019 11:00 am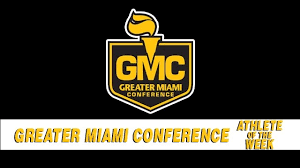 Congratulations to our Highlanders who were named GMC Athletes of the Week!
Sarah Bussard Sr Girls' Volleyball
Sarah had a great week with 21 kills and 4 blocks over the weekend. She is a strong leader on and off the court, member of National Honors Society.
Esperanza Estrada Jr Girls' Soccer
Esperanza Estrada had a big week, as she returned from an injury that had her sidelined for a month. She helped control the midfield this past week at Turpin and she put in the game-winning goal at Turpin, to help her team win 1-0. Esperanza also is an outstanding student, taking 3 Honors classes and 2 AP classes.
Megan John Jr Girls' Cross Country
Megan John led the Oak Hills Cross country team to a 2nd place team finish at the Talawanda Invitational by placing 4th overall with a time of 20:35. Megan was also voted captain by her teammates for always being a positive role model and leader of the team.
Avery King Fr Girls' Tennis
Freshman Avery King has four wins this year including wins over Turpin and Mount Notre Dame. Avery is a 4.0 student, a member of the choir, and also plans to try out for the bowling team.
Alex Schmidt Jr Boys' Cross Country
Alex has never been on varsity before and he was our 5th runner on Saturday. He is one of the only boys to run a personal best in his first meet, and did so by a huge margin of 34 seconds. This was not a surprise based on his summer training and we a glad to have him as a member of the varsity squad now.