Side Menu Ends, main content for this page begins
Back to Side Menu (includes search)
Highlander GMC Athletes of the Week
Posted on: September 10, 2019 9:30 am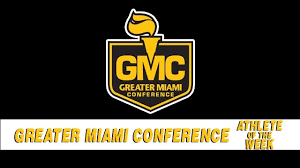 Congratulations to our Highlander athletes who were named GMC Athletes of the Week!
AJ Kontsis Jr. Boys' Golf
AJ helped the Highlanders to wins over Walnut Hills & Hamilton Badin. He was the medalist at Miami Whitewater with a score with a 2 over 38.
Abigail Miller Jr. Girls' Tennis
Abigail has provided the team with great depth throughout the season as she contributes to collect wins at third singles or second doubles. Abigail is now 3-1 on the year at second doubles as she defeated Middletown this past week. Abigail is also a 4.0 student while being a member of the French Honor Society and the NHS
RJ Linenkugel Jr. Boys' Soccer
R.J. scored three goals for a hat trick against Hamilton in Oak Hills GMC opening game, a 3-3 tie. R.J. has a 3.8 GPA and is a multi-sport athlete lettering in soccer (3 years), basketball and track. As a Freshman, he was a regional qualifier in Oak Hills 4x400 relay team. He also volunteers his time for a number of community service activities.
Erin Kumler Soph Girls' Golf
Erin is in her first year as Varsity Golfer. She worked hard during the off-season and has continued to work toward specific goals. She's made a tremendous improvement in her game and is a valuable member of the team. She accomplishes this all with a rigorous course load of 5 AP/Honors classes. She was also recently recognized with an Academic O for her freshman year.
Molly Ewry Sr. Girls' Soccer
Molly, a Senior Defender, helped her team get two shutout wins this past week against Hamilton and Mercy-McAuley. She defended both teams best forwards, and helped our defense shut them down. Molly is also taking 1 Honors course, and 2 AP Courses.
Will Young Sr. Football
Will Young had 8 punts for 295 yards while averaging 36.9 yards per punt. He pinned the Simon Kenton Pioneers inside their own 20 three times for the game. Young also had a long punt of 46 yards in the game.
Zack Kroger Jr. Boys' Cross Country
Zack has made a fantastic return to varsity level running after a major setback with an injury in the spring. He has been a positive example for his teammates and has continued to progress individually. He was the second runner for the team on Saturday at Troy. Zack will continue to improve and to be a crucial part of his team's success.
Julia Hageman Fr. Girls' Cross Country
Julia is starting off the season as a consistent #3 runner. She placed 7th at the Talawanda Invitational, 8th at the Lebanon Invitational and 21st out of 290 runners at the Troy Invitational.