Oak Hills High School News
Highlander GMC Athletes of the Week
Posted on: September 17, 2019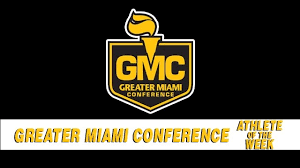 Congratulations to our Highlander athletes who were named GMC Athletes of the Week!
Riley Broughton Soph Girls' Volleyball
During our three-game week, Riley had 75 assists, 25 digs, and 8 aces. She also carries a 4.0 GPA and serves as a member of the Student Council and Key Club.
Emma Lucas Soph Girls' Cross Country
Emma placed 16th at the Milford Invitational to help her team to a 2nd place team finish out of 21 teams. She dropped 55 seconds from the previous week to run a season-best time of 20:19.
Allen Nienaber Jr. Boys' Golf
Junior Allen Nienaber led the Highlanders to a victory over Lasalle with a 1 over par, 36..
Gabrielle Kadakia Fr. Girls' Tennis
Freshman, Gabrielle Kadakia, is 9-5 on the season while playing second singles. This past week she went 2-1 which included wins over St.Ursula and Harrison. Gabby has had a tremendous impact on the team as she has provided the team with a strong court at 2nd singles. In addition to tennis Gabby carries a 4.0 GPA.
James Schmidt Jr. Boys' Cross Country
James has been battling small ailments all year so far and still is not feeling 100% healthy. Despite this, his competitive spirit spurred him on to a 3rd place finish in a lifetime best time. In the uncomfortable late morning heat of the varsity race, he was the only Highlander to run a personal best on Saturday.
Adam Malone Jr. Boys' Soccer
Adam is a two-year varsity defensive starter. Last week, he had an opportunity to play outside midfield against Mason. Adam proceeded to score Oak Hills only goal in a 4-1 loss approximately ten seconds after his change of position.
Matthew Hodges Jr. Football
Matthew had 3 solo tackles and a fumble recovery leading to his 20-yard fumble return for a touchdown against Colerain this past Friday.
Lynn Heckmuller Sr. Girls' Soccer
Lynn had the assist for the game-winning goal this past week in a 1-0 win against Kings High School. Lynn, a Senior Captain, has played a key role this season as a midfielder. Lynn also takes 3 AP courses and 1 college prep course.
Lydia Essert Soph Girls' Golf
Lydia was our team medalist in the recent Best of the West tournament with a phenomenal back 9. This was followed by 2 more great rounds to assist with team wins. She has been our team medalist twice in the last 4 matches. She's a 2-sport stand out athlete in golf and softball with amazing dedication to both sports while balancing several Honors/AP classes and maintaining an A-average. She is a leader to her teammates and an exemplary student-athlete.