Oak Hills High School News
Highlander GMC Athletes of the Week
Posted on: September 24, 2019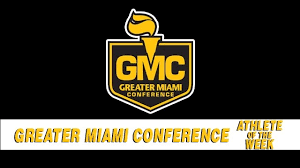 Congratulations to our Highlanders who were named GMC Athletes of the Week!
Nate Srode Soph Boys' Cross Country
Our team has been in a search for the guy who will complete our varsity top 5, and it seems that Nate has stepped up to the challenge! On a day when almost no one ran personal bests, Nate managed to do so by 12 seconds. His work ethic and positive presence are going to continue to benefit himself and his team.
Kate Nieman Jr Girls' Volleyball
This week, Kate had 19 kills and 3 blocks. Kate has a GPA of 3.94. She is involved in NHS, Young Life, and she is also a member of the Oak Hills Swimming Team.

Megan Huth Jr. Girls' Cross Country
Megan ran a time of 21:13 at the Centerville Invitational on Saturday. She placed as the team's 5th runner helping the team to a third-place finish out of 35 teams in the Varsity A race. Megan has been a consistent number 5 runner all season.
Lily Lang Sr. Girls' Golf
Lily, our only Senior golfer has been a huge asset to our team, with her incredible ability to bring out the best in others, particularly her teammates. Our young team of golfers looks up to Lily for golf, school and LIFE advice. She can find the positive in any situation and is able to help the girls refocus to use their talents and skills. Lily is our team captain, co-president of the Senior class, Mock Trial president, head of media for NHS and is involved with ASLHS, Spanish Honor Society and National Art Honor Society. She has a 4.0 with numerous AP and Honors classes.

Chad Smith Jr Boys' Soccer
Chad is one of our two varsity goalkeepers. This week, he had an opportunity to play in the field and registered an assist in our 2-1 loss against Colerain. Two days later, he was back in the net and made an incredible save on Milford's penalty kick. Chad is a member of National Honor Society, maintains a 3.9 GPA and is a captain of the soccer team.
Mia Ziebro Jr. Girls' Tennis
Mia went 3-1 this past week which included a runner-up finish at Coaches Classic and a win over Lakota West. Mia is now 13-3 on the season at first singles. Mia plans on playing tennis in college.
Kendyl Smith Sr. Girls' Soccer
Kendyl, a senior forward, had a big week! Kendyl had 2 goals and 1 assist this past week against Princeton and Colerain. She is a big threat up top and very dangerous in the attack with her pace and skill.
Brendan Maxwell Sr Football
Brendan ran for 135 yards on 10 carries against Mason. He had a long run of 67 yards and scored 1 touchdown.