Oak Hills High School News
Highlander GMC Athletes of the Week
Posted on: October 1, 2019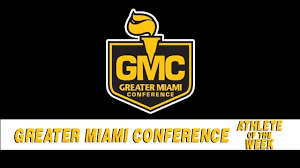 Congratulations to our Highlander athletes who were named GMC Athletes of the Week!
Mackenzie Hoy Sr. Girls' Tennis
Mackenzie and her partner Molli Malone won the backdraw of the GMC tournament, helping the Highlanders finish in 5th place overall. Furthermore, the doubles combo of Molli and Mackenzie had a great three set battle against Mariemont's first doubles team the previous week. Mackenzie now has 13 wins on the season with various doubles partners. After high school she plans on attending college to become a nurse.
Jillian Yates Soph Girls' Volleyball
During the three games this week, Jillian accumulated 31 kills, 8 blocks and 2 serving aces. While she is only a sophomore, she will continue to dominate at the net for the Highlanders. Jillian has a 4.0 GPA and is also a member of the Oak Hills Track and Field team.
RL Linenkugel Jr. Boys' Soccer
R.J. had a hat trick in our 4-2 win against Middletown and followed that up, scoring our lone goal against Fairfield in a 3-1 loss. He is currently the fourth in overall points in the GMC. R.J. maintains a 3.8 GPA.
Anabelle McDonald Sr. Girls' Cross Country
Anabelle had a great race this past Saturday at the St. Xavier Invitational. She came in 25th place to help the team to a 2nd place finish.
Devin Holt Jr. Football
Devin accounted for 228 all-purpose yards vs. Hamilton- 105 yards rushing, 45 yards passing and 78 yards on 3 returns.
Sophia Kuerze Fr Girls' Soccer
Sophia Kuerze scored 4 goals against Middletown in an 8-0 win this past week.
Grace Armentrout Sr Girls' Soccer
Grace, a senior captain, helped her team get a win and a draw this past week. She tallied two assists and helped her team secure a shutout at Middletown. Grace has been an anchor in the midfield, and in starting scoring opportunities. Her distribution, High Soccer IQ, and work-rate in the midfield has been vital in the Highlanders success this season. Grace is also on the Oak Hills Student Council Executive Board.