Oak Hills High School News
Highlander GMC Athletes of the Week
Posted on: October 8, 2019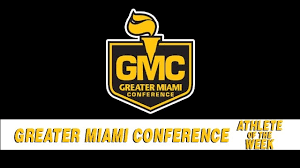 Congratulations to our Highlander athletes who were named GMC Athletes of the Week!
Jadin Holmes Sr. Football
After missing a week due to injury Jadin returned to help lead the Highlander defense in takeaways with two while the defense totaled 4 takeaways (3 interceptions, 1 turnover on downs). He had 3 total tackles and two interceptions with one key interception in the red zone vs Lakota West. Holmes is tied 2nd in the GMC for interceptions this season.
Alex Taft Fr. Boys' Cross Country
Alex has been an amazing addition to our team during his freshman year. From the start, he exceeded our expectations and has been a consistent top 5 runner for us. Alex was 3rd for the team on Saturday at Ross, helping us to earn a 3rd place finish out of 17 teams, and we look forward to seeing what he can do at the GMC championship.
Mayson Reperowitz Sr. Girls' Volleyball
Mayson had a great week...she tallied 12 kills, 26 digs and 3 serving aces. She really came through on Senior Night! Mayson carries a 4.0 GPA and she is heavily involved at school being a member of National Honor Society, National Art Honor Society, National German Honor Society, Hope Squad, and the Student Council Executive Board.
Rosalie Pictor Sr. Girl's Tennis
Rosalie finished out her tennis career with a sectional win on Wednesday over Hamilton. Rosalie ended her career with a 6-4 varsity record. Rose plans on continuing her tennis career next year in college.
Samantha Nuss Soph Girls' Golf
Sam has qualified to move on in the state tournament! She was one of the top-scoring individuals in the Sectionals tourney (18-hole score: 81!) and has qualified to play at Districts! She's been our team medalist in 14 of our 19 matches/tournaments. Sam has been one of our hardest workers, instrumental in our significant improvement as a team this year. Her overall effort, attitude and leadership greatly contributed to our overall winning season!
Lynn Heckmuller Sr. Girls' Soccer
Lynn, a Senior Captain, scored 3 goals this past week to help her team defeat Sycamore 2-1 and draw against Fairfield 1-1. Lynn is currently in the Top 5 in the GMC in overall points with 9 goals and 6 assists.
Cecilia Pastrick Fr. Girls' Cross Country
Cecilia ran 40 seconds off her personal best time at the Ross Invitational placing as the team's #7 runner and helping the team to a first place finish.