Side Menu Ends, main content for this page begins
Back to Side Menu (includes search)
Highlander GMC Athletes of the Week
Posted on: December 10, 2019 9:00 am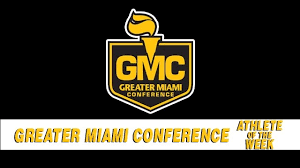 Congratulations to Nathan Sexton who was voted as the cincinnati Enquirer Top Boys' Bowler of the Week - thank you for voting for him!
Congratulations to our Highlanders who were named GMC Athletes of the Week!
Becca Jones Sr. Girls' Bowling
Becca placed first individually in the Midnight Madness Tournament on 12/6 at Crossgate Lanes, leading the girls' team to be the tournament champions!
Owen Pelzer Sr. Boys' Swimming
At our first dual meet of the season, Owen broke the team record for 100 Fly. He leads by example and continues to be a top swimmer for Oak Hills.
Caroline Eichhorn Sr. Girls' Swimming
She is our girls' team captain and has organized charity events and fun activities for our team family to enjoy. She is a strong example of a leader and is a prime reason we have such a positive and motivated team.
Owen King Sr. Boys' Bowling
Owen King- Helped the Oak Hills boys' bowling team move to 2-0 in the GMC and 4-0 on the season shooting a 459 series against Sycamore. Owen is currently averaging 222.8 on the season, and he is also a member of the Oak Hills Academic Team.
Jaylah Herzog Sr. Girls' Basketball
Jaylah, a senior forward and team captain, hit the first 3 point basket of her career to help Oak Hills to an overtime win over Colerain. She also registered a career-high 7 steals in that same game. She followed that performance up by scoring 9 points and grabbing a career-high 15 rebounds and adding 6 more steals in a win over Middletown. Jaylah is currently 2nd in the GMC in steals averaging 3.8 per game, 5th in rebounds with 8.0 per game, and 10th in blocks.
Brandon Mitchell Soph Wrestling
Brandon was 5-0 at the Jeffersonville Duals, and he maintains straight A's.
Wyatt Ferguson Freshman Wrestling
Wyatt was 5-0 at the Jeffersonville Duals.
Jake Sowders Freshman Wrestling
Jake was 5-0 at the Jeffersonville Duals.
Jacob Ramstetter Junior Boys' Basketball
Jacob scored 12 points (8-8 from the FT line), had 8 rebounds and 1 assist in this past Friday's GMC win at Middletown. Jacob also has a 4.0, taking all AP and Honors classes.