Side Menu Ends, main content for this page begins
Back to Side Menu (includes search)
Highlander GMC Athletes of the Week
Posted on: December 18, 2019 9:00 am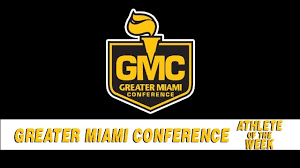 Congratulations to the following Highlanders who were named GMC Athletes of the Week!
Ellie Cox Soph Girls' Swimming
Ellie is a high honors student-athlete that always puts in 100%. She played a major role in our success in meets this week and is always a team leader by example. She exhibits a strong work ethic and a positive attitude.
Patrick Thibodeaux Jr. Boys' Swimming
Patrick's commitment to the team was clearly illustrated this week with his strong swims at both Best of the West and the Dearborn Invitational. In both meets Patrick out-touched his opponents for valued points for the team. He has shown great improvement over the last two year
Brandon Mitchell Soph Wrestling
Brandon won the Edgewood Invitational this past weekend. Brandon is also an excellent student.
Wyatt Ferguson Fr Wrestling
Wyatt won the Edgewood Invitational this past weekend. Brandon is also an excellent student and a multi-sport athlete.
Freddy Tallarigo Fr Wrestling
Freddy won the Everette Howard Memorial Invitational this past weekend.
Kateri Hennessey Jr. Girls' Bowling
Kateri led the Highlanders to the Quarterfinals of the Holiday Classic on December 14th. She individually placed in the top 10 of the tournament with a 341 series!
Courtney Dean Soph Girls' Basketball
The sophomore guard came off the bench in two games to spark the Highlanders offense and defense. She scored a career-high 11 points and four rebounds an assist and a steal in the loss to Sycamore and also held the Aviator's leading scorer to just 3 points in the second half. She added five points in the loss to Lakota East and is averaging almost 6 points per game this season.
Austin Dennis Jr Boys' Basketball
Austin scored 17 points, had 8 rebounds and took 2 charges last week in 2 league wins. More important than that Austin dove onto the floor to secure 2 loose balls, helping Oak Hills earn its win on Friday night. Austin is a multi-sport athlete and an excellent student who takes Honors and AP classes.
Owen King Sr. Boys Bowling
Owen finished 2nd overall at Wright State Raider Classic, helping the team finish 7th overall.