Side Menu Ends, main content for this page begins
Back to Side Menu (includes search)
Highlander GMC Athletes of the Week
Posted on: January 21, 2020 1:30 pm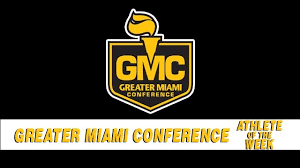 A great week of competition for our Highlander teams which means a big group of Highlander GMC Athletes of the Week!
Jamie Mays Sr. Girls' Bowling
Senior Jamie Mays continued to hit new personal bests this week at Western Bowl! On Tuesday the 14th, she rolled her new personal high 2-game series of 234. Then on Thursday the 16th, she bowled her new high game of a 164! Jamie is in her first year of bowling, coming in with very little experience, but continues to impress her team with her growth each and every week
Dy'Jhanik Armfield Sr. Girls' Basketball
The senior captain led the Highlanders to two big GMC wins, scoring a game-high 25 points, recording 8 steals, and 4 assists in a road win at Colerain and added 13 points, 5 rebounds and 4 steals in an overtime win at home over Middletown. Dy is second in the GMC in scoring with a 17.8 per game average and leads the conference in assists and steals. She carries a 3.1 GPA.
Petal Sloan Fr. Girls' Swimming
As a first year swimmer, Petal has become a key contributor to the team. This weekend at Classics, Petal competed in 4 individuals and 4 relays and qualifying in 2 individual events. Saturday she finished at finals in the 100 IM 12th overall and in the Sunday finals finished 9th overall in 50 Fly cutting over a second off her qualifying time.
Samantha Gerde Jr. Girls' Swimming
Samantha has played a key role on the girl's swim and dive team for the last 3 years. This weekend at Classics, she placed in finals in the 50 breaststroke cutting over 2 seconds off her prelim time to finish 9th overall.
Cade Grimmett Jr. Boys' Swimming
Cade is an honors student-athlete. This weekend at Classics, Cade competed in four relays and 4 challenging individual event. He played a key role in the Medley Relay Saturday that finished 6th overall. Sunday he competed in the 200 Backstroke and Fly events. He qualified for finals in Fly and finishing 14th overall.
Alex Zagorianos Jr. Boys' Swimming
Alex is an honors student-athlete. He competed this weekend in Classics, with great results. He was a part of the Medley Relay that finished 6th overall. In the individual event 50 Breaststroke, Alex competed in the finals finishing 12th overall.
Nathan Sexton Sr. Boys' Bowling
Nathan has been an important part of the team's success this season, and the boy's bowling team is currently 11-0. Against Lakota East, Nathan bowled his new high two-game series of 501. And against Hamilton, he rolled his new high game for a high school match of 267. He is currently averaging 209.5 and is 6th in the GMC.
Mason Bencurik Soph Boys' Swimming
Mason is an honors student-athlete. He started out the season with a broken arm. As soon as he was cleared, Mason returned to training in a cast. Even though he remains in a brace, Mason has been playing a major role on the team. His hard work and determination have given him an opportunity to compete at the Classics, qualifying for finals and finishing 11th overall in 50 fly and was part of the 200 free relay that finished 9th overall.
Adonis Caneris Jr. Boys' Basketball
Adonis scored 19 points in a home GMC win against Hamilton. He went 6-10 from the field (2 of 3 from the 3 point line and 5-6 from the FT line), had 4 rebounds and 3 assists. He volunteers to perform community service on a regular basis as well as earning a 4.0 GPA in Honors and Advanced Placement courses.