Side Menu Ends, main content for this page begins
Back to Side Menu (includes search)
Highlander GMC Athletes of the Week
Posted on: February 4, 2020 9:30 am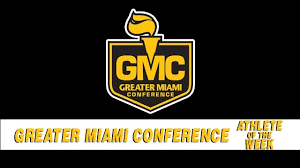 Congratulations to the Highlanders who were named GMC Athletes of the Week!
Donny Grote Fr. Boys' Swimming
Donny is a first-year varsity swimmer and diver. Donny is a strong swimmer and a talented diver who has contributed greatly to the boy's team success. At the GMC meet, Donny struggled through an injury and was able to finish second giving the team a strong lead to begin the meet. We are looking forward to see Donny continue his successful year throughout the state tournament
Jaylah Herzog Sr. Girls' Basketball
Jaylah, a senior forward and team captain, recorded her third double-double of the season in a 45-44 loss to Lakota East. She scored a team-high 15 points and grabbed 17 rebounds to lead the Highlanders. She also recorded 6 steals and had a season-high 5 blocks in the game. She is currently third in the GMC in rebounding at 9.2 per game, fourth in steals at 2.7 per contest, and sixth in block shots with 1.4 per game.
Riley Eilerman Jr. Girls' Swimming
Riley has been a varsity swimmer for 3 years. She has taken on many different events for the team. Without swimmers like Riley, we would not be able to represent Oak Hills as well as we do. This weekend at the GMC meet, Riley swam the 500 free and posted a season-best. She is a key member of the team and glad to have her.
Emma Miller Jr. Girls' Basketball
Emma, a junior guard, turned in two quality defensive performances this past week. She did an outstanding job guarding her man and playing team defense, recorded 2 steals in each game, and led the way in communicating what needed to be done on the floor. She also dished out 2 assists in the game vs. Lakota East, and is fifth overall in the GMC in free throw percentage, shooting 84.2 percent from the line. Emma carries a 3.98 GPA, has started all season at the point guard position and is an exemplary example of how hard work pays off on the basketball court.
Jake Sowders Fr. Wrestling
Jake Sowders finished the week with 2 pins. He has also helped his postseason seeding.
Brandon Mitchell Soph Wrestling
Brandon had an exciting match against Elder. He won 7-5 helping his postseason seed. Brandon Mitchell also maintains an A average.
Austin Dennis Jr. Boys' Basketball
Austin scored 22 points in Friday's GMC win at Fairfield. He added 4 rebounds and 2 assists. Austin is a multi-sport athlete (Baseball and soccer) maintains a 4.0 GPA, taking 3 Honors and 3 AP classes this semester.

Jaxon Schreiber Fr. Boys' Basketball
Jaxon played 16 valuable minutes in the GMC win against Fairfield contributing 4 points, 2 rebounds and 1 assist. He has been a valuable addition to the varsity team. Jaxon maintains a 3.92 GPA and is a multi-sport athlete (Baseball and football).