Oak Hills High School News
Highlander GMC Athletes of the Week
Posted on: September 8, 2020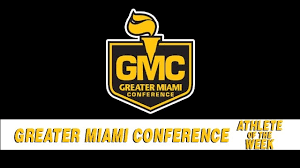 Congratulations to our Highlanders who were named GMC Athletes of the Week!
Cannon Kartye Boys' Cross Country Jr.
Before this season, Cannon hadn't run a cross country race since October of 2018. At that time, he had just finished a promising freshman year. We thought he had the potential to be a major contributor in the future, but began to fear we may never find out. To our delight, Cannon ran a huge personal best at Lebanon this weekend and finished as our 4th runner in the varsity race. With this confidence boost, we look forward to his continued success.
Will Steioff Boys' Golf Soph
Will had a Hole in One on the 174 yard par 3 8th hole at Miami Whitewater in a match vs Lakota West
Wyatt Ferguson Football Soph
Sophomore Wyatt Ferguson finished the game against Colerain with 7 solo tackles and 2 assists. His attitude and energy has given the defense a huge spark this season.
Sarah Lykins Girls' Tennis Soph
Sarah earned her first three career varsity wins this past week. She beat Princeton and Colerain in singles; she then won a doubles match against Hamilton with Sophia Marsala. In addition to playing tennis, Sarah carries a 4.0 GPA while being a member of NHS and Spanish Honors Society. She also spends a lot of her time volunteering for her church. After high school Sarah plans on going to college and becoming a pediatrician.
RJ Linenkugel Boys' Soccer Sr.
R.J. scored both goals in the Highlanders win at Elder on Saturday night with the game winner occurring in dramatic fashion with less than 3 seconds left on the clock to lead the Highlanders to a 2-1 come from behind victory! He also had a goal and an assist in Oak Hills 3-0 victory over Hamilton earlier in the week. R.J. is a multi-sport athlete (Basketball) and a member of NHS, earning a 4.0 GPA.
Maria White Girls' Soccer Sr.
Maria, a Senior Goalkeeper, helped the Highlanders earn two big shutouts this past week against Hamilton and West Clermont. She had several big saves late in the matches to help secure the shutout in both games. Maria holds a 3.8 GPA, while taking all AP courses and honors courses.

Logan Muhlen Boys' Soccer Sr.
Logan helped lead the Highlanders to two shutouts over the past three games. In the past three games, the Highlanders have only conceded 1 goal, and Logan has been an integral part of maintaining consistency across the backline for the Highlanders. Logan has a 3.8 GPA.
Anna Thomas Girls' Soccer Sr.
Anna, a captain and Senior Goalkeeper, helped the tearn earn two big shutouts this past week against Hamilton and West Clermont. She recorded several huge saves in each match. Anna is currently taking all AP courses all while earning a 4.0 GPA and being ranked 19 of 600 in her class. She is a member of the Student Council Executive Board, National Honor Society, Spanish Honor Society, and the Honor Chain. She has also received the AP scholar award in each of the past two years!
Katelynn Hester Girls' Volleyball Sr.
During this week's matches, she tallied 47 digs and 6 serving aces. Katelynn has been a great addition to the volleyball team because she keeps the ball alive.
Eva Hensley Girls' Cross Country Fr.
In just her second high school Cross Country race, Eva ran a very aggressive race and placed 4th at the Lebanon Invitational. Her time of 19:16 places her #10 overall on the Oak Hills Girls All-Time record board. Eva is currently ranked #3 in the GMC