Oak Hills High School News
Highlander GMC Athletes of the Week
Posted on: September 15, 2020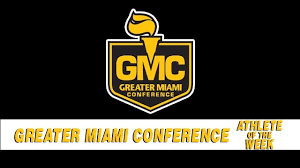 Congratulations to our Highlanders who were named GMC Athletes of the Week!
Joe Helmes Boys' Cross Country Fr.
In his second varsity race, Joe was just the guy we needed. He ran another huge PR this week, running in the 17's for the first time and crossing the line as our 4th runner. But the moment that really impressed the coaches happened just before the one-mile mark. The course required racers to make a tight 180 degree turn around a pole. Joe charged into this redirection with a bit too much speed, slipped, and fell hard on the ground. Joe was back up in less than a second, with a look of calm determination on his face. A setback like that can mentally break even the most experienced runners. However, it has the opposite effect on a real competitor.
Debra Brogan Girls' Golf Fr.
Debra is a phenomenal freshman golfer on the Varsity Girls' Golf Team. She came into Oak Hills as a 2-time winner of middle school GMC golf. She's been a medalist in 6 of our 12 matches thus far and placed 2nd in 2 of our 3 multi-school tournaments. She is currently ranked 5th in the entire GMC! She is a great influence on our team and is motivating all of our players to be better! And she is accomplishing all of this while enrolled in 4 honors courses and maintaining straight A's.
Riley Broughton Girls' Volleyball Jr.
This week's matches (2), Riley tallied 50 assists, 17 digs, and 8 serving aces. She is leading the conference with 234 total assists for the year and she is also tied for 4th in the conference with 18 serving aces. She has been the starting setter for the past two years. Riley serves on Student Council, Key Club, and YoungLife at Oak Hills.

Sophia Kuerze Girls' Soccer Soph
Sophia a Sophomore Forward, scored 3 goals this past week to help her team get a 5-1 win at Harrison and a 1-1 draw against #5 ranked Mason. Sophia is currently 2nd in the GMC for goals (8 total) and in 2nd for total points (19). Sophia also holds a 3.8 GPA while taking all AP and Honors courses.

Sophia Marsala Girls Tennis Jr.
Sophia went 3-0 this past week at second doubles with wins over Middletown, Hamilton, and Lakota East. Sophia and her doubles partner, Abigail Miller, are now 4-3 on the season. Sophia is a multi-sport athlete, as she runs track & field in the spring. In addition to tennis Sophia is the trumpet leader for the Oak Hills competitive march band. While carrying a 4.0 GPA Sophia is also a member of the choir, Hope Squad, French club, and Theater.
Matthew Fulton Football Sr.
Mathew has 11 solo tackles and 4 assisted tackles this week vs. Mason HS. Matthew also recorded 2 tackles for loss. He demonstrated outstanding toughness and leadership in a very physical football game.
Ady McDonald Girls' Cross Country Fr.
Ady placed 4th overall this past weekend at the Little Miami Invitational helping her team to a first-place finish. Her personal best time this season of 19:31 places her as the 6th fastest runner in the GMC and the second-fastest freshman.