Oak Hills High School News
Highlander GMC Athletes of the Week
Posted on: September 22, 2020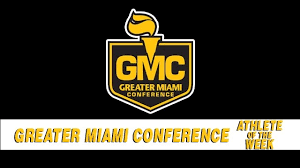 Congratulations to the following Highlanders for being named GMC Athletes of the Week!
Danny Herzog Boys' Cross Country Jr.
After spending his last two seasons running exclusively JV races, Danny has established himself as a solid member of our varsity squad by finishing in our top 8 every meet so far this year. He has been steadily dropping time and broke into the 17's for the first time on Saturday at Milford.
Kate Nemann Girls' Volleyball Sr.
Kate is having a superior senior season. She had a great week when her team went 2-1 on the 3 game week. Kate tallied 28 total kills and 4 blocks. She is hitting .258 efficiency on the season which puts her in the top 20 in the GMC.Kate is a member of NHS, ASL HS, Student Council and leads Younglife. Kate also swims for Oak Hills Swim and Dive Team. She hopes to be a Nurse Practitioner one day working in the mental health area.
Lucy Rankin Girls' Golf Soph.
Lucy has been improving her golf game dramatically over the past year and especially in the past several weeks. She has moved into the 3rd position, playing a key role in our last 4 wins. In our last 3 tournaments, including the GMC, she improved 11 strokes from her average! She was named 2nd team all GMC. Lucy is an honors/AP student with straight A's and a recent recipient of an Academic O.
Stephanie Miller Girls' Soccer Jr.
Stephanie, a Junior Midfielder, picked up her 2nd assist of the season Thursday night against Princeton. She has played a vital role in the midfield for the Highlanders this fall with her technical ability and ability to distribute well. Also, she currently takes all AP and Honors courses.
Mia Ziebro Girls' Tennis Sr.
Mia pulled out a thrilling third set win over Mariemont this past week. Mia is currently 11-4 on the season, Mia has a chance to be one of the winningest players in Oak Hills tennis history. Mia currently has a 4.0 GPA and plans to play tennis in college while obtaining a business degree in marketing.
Megan John Girls' Cross Country Sr.
Megan has been an incredible role model and leader on the team for the past four years. Her personal best time of 18:35 places her #2 on the All Time Record board. Her determination and perseverance is an inspiration for the rest of the team. Megan is also an excellent student and has a 4.0 GPA.
Chad Smith Boys' Soccer Sr.
Chad recorded his second clean sheet in a 5-0 victory at Princeton, after claiming the only goal in a loss at Mason. He is a 3-year varsity soccer player and 2-year captain. Chad was 2nd team All-GMC in his junior year. He is a member of NHS and the National German and Art Honor Societies, has a 4.0 GPA, and is in the Top 10% of the class.
J.J. Meyer Boys' Soccer Sr
J.J. recorded two goals and had two assists in Oak Hills 5-0 win at Princeton. JJ is a 3-year varsity soccer player and is a member of the National Society of High School Scholars and has earned an Academic O every year with a GPA of 3.88.