Oak Hills High School News
Highlander GMC Athletes of the Week
Posted on: October 27, 2020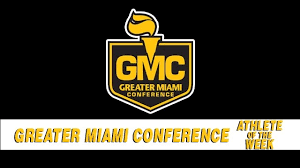 Congratulations to our Highlanders who were named GMC Athletes of the Week!
Cannon Kartye Boys' Cross Country Jr
Cannon came through huge for the Highlanders on Saturday at districts. After a series of ups and downs the past few weeks, he made the decision to leave all excuses behind and have the race of his life. Above all else, his ability to overcome his own self-doubt was the most impressive. Cannon broke 17 minutes for the first time, running 16:52 and crossing the line as the #2 Oak Hills runner. His race helped earn the Highlanders a 4th place finish and a chance to run at regionals next week.
Patrick Gibbons Football Sr.
Patrick had his first two career varsity rushing TD's in last week's dominant victory over Harrison. Patrick is a blue-collar type of player who has embodied TEAM first all season.
Megan John Girls' Cross Country Sr.
This past Saturday, Megan had an incredibly impactful race at the District Championships. She placed 12th overall with a season's best time of 19:15 to help the team to a 2nd place team finish. Megan is an exceptional leader and continues to get stronger and improve at each race.