Side Menu Ends, main content for this page begins
Back to Side Menu (includes search)
Highlander GMC Athletes of the Week
Posted on: December 8, 2020 8:40 am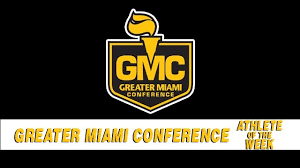 Congratulations to our Highlanders who were named GMC Athletes of the Week!
Keith McCalla Boys' Bowling Soph
Keith led the Oak Hills Boys Bowling team this weekend at the Big Blue Challenge. He had a 567 series average of 189, and is continuing to learn and improve every week.
Noah Asman Boys' Swimming Soph
Noah was our top performer at the LaSalle meet. He finished 1st in the 50 free with a 24.32 and was our anchor swimmer in the 200 and 400 free relay. His split in the 400 free of 51.76 solidified our victory over LaSalle.
Gia Hensley Girls' Swimming Fr
Gia competed for the first time at the high school level against Mercy McAuley. She had a time of 3:16.71 in her first ever 200 IM and solid 1:13.33 in the 100 free. She also was a part of our winning 200 free relay.
Avery King Girls' Bowling Soph
Sophomore Avery King is quickly becoming a leader on the girls' bowling team. In her second year, she currently holds the second-highest average on the team of 156, which is the 20th highest in the GMC. This past weekend, Avery finished 9th place overall in the Big Blue Challenge rolling a 537 series.
Dylan Pennekamp Wrestling Soph
Dylan won his season opener against Lakota East with a major decision (10-2).
Jake Sowders Wrestling Soph
Jake Sowders dominated in the season opener against Lakota East. He pinned his opponent earning 6 team points for Oak Hills.
Anna Thomas Girls' Basketball Sr
Anna, a senior captain, registered her first career back to back double-doubles in 2 games last week. She scored 10 points and grabbed a career-high 10 rebounds vs. Princeton then added 13 points and 10 rebounds in a loss to Mason at home. Anna is a 3-year varsity performer, a multi-sport athlete (soccer), and carries a GPA of 4.0.
Jaxon Schreiber Boys' Basketball Soph
Jaxon contributed to a team win in overtime vs. Turpin, a strong comeback that fell short vs. Princeton. He shot 80% from the FT, played some valuable minutes and is rounding himself into basketball shape after his recent football season participation. Jaxon is a multi-sport athlete who also owns a 3.8 GPA.