Side Menu Ends, main content for this page begins
Back to Side Menu (includes search)
Highlander GMC Athletes of the Week
Posted on: December 22, 2020 9:00 am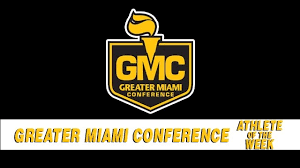 Congratulations to our Highlanders who were named GMC Athletes of the Week!
Tyler Obert Boys' Swimming Soph
Tyler is an honors student and hard worker in practice. His drive and dedication to improve for himself and the team is evident in every practice. Already this season he has produced two personal bests. In the 100 fly, Tyler swam a 1:07.4, a 5 second drop from his last previous best, and a 2:07.92 in 200 free which is more than a 10 second best time.
Reid Ryan Boys' Swimming Jr
Reid's character and spirit for the team has helped define what it means to be a part of the Oak Hills swim and dive team. Winning can be defined in many ways. A winning character and sportsmanship are the two team attributes Reid helps to define our team as winners and his thoughtfulness made the senior meet quite special.
Maria Thibodeaux Girls' Swimming Soph
Maria put together a tremendous performance Thursday night against Fairfield. Placed in 3 consecutive events, Maria was able to take first in the 500 free, followed by helping give the team's 200 free relay a first-place finish, followed by a best time in the 100 back from a JV heat. Given the limited rest time between events this season, this is a testament to her endurance and dedication to the team.
Ellie Cox Girls' Swimming Jr
As our junior team captain, Ellie has been an exemplary leader, motivating and encouraging others and developing a team spirit in the highlander fashion. Our seniors were given an outstanding senior meet and team breakfast, largely because of Ellie's time and devotion dedicated to honoring them. Her performance in the water has always been exceptional, but her spirit is irreplaceable.
Shy Kersey Girls' Bowling Jr
Junior Shy Kersey is quickly becoming a leader for the girls' bowling team. This week she had a fantastic match against GMC rival Sycamore. During the match, she rolled her new career-high game of 233 and her new career-high series of 382! This led the Lady Highlanders to their highest single-game and match total of the season so far!
Brady Sabin Boys' Bowling Fr
Brady finished with the second-highest two-game pin fall at the JV Jingle Bell Bash with a 491 series (202,189). This helped him earn a spot on the All-Tournament team.

Ethan Young Wrestling Soph
Ethan earned his first Varsity pin against Mason on December 16th. Congratulations Ethan!
Fred Tallarigo Wrestling Soph

Freddy wrestled extremely well at the Loveland duals. He earned his first Varsity wins of the year. Congratulations Freddy!
Omarion Carter Wrestling Soph

Omarion earned his first Varsity pin at the Loveland Duals on December 19th. Congratulations Omarion!
Trexler Cook Wrestling Soph
Trexler earned his first Varsity win at the Loveland Duals against a tough Springboro opponent. Congratulations Trexler!

Dylan Marshall Wrestling Soph
Dylan earned his first Varsity pin at the Loveland Duals on December 19th. Congratulations Dylan!
Adam Wittich Wrestling Soph
Adam received his first Varsity win at the Loveland Duals on December 19th. Congratulations Adam!
Emma Miller Girls' Basketball Sr.
Emma, a senior captain, scored a career-high 15 points and grabbed 8 rebounds to lead the Highlanders to a come-from-behind 54-49 win over Fairfield. She also added 4 assists, 3 steals and a blocked shot while making 5 of 6 free throws down the stretch to seal the win. Emma is also an outstanding student with a GPA of 3.87.