Side Menu Ends, main content for this page begins
Back to Side Menu (includes search)
Highlander GMC Athletes of the Week
Posted on: December 31, 2020 10:00 am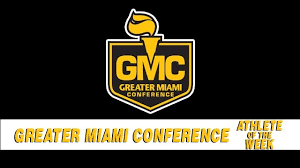 Congratulations to our Highlanders who were named GMC Athletes of the Week!
Kenzie Goff Girls' Bowling Soph
Kenzie Goff has grown so much already this season. She is currently holding an average of 127 which is 32 pins higher than her average at the end of last year. In December she rolled her new personal high game of 190, rolled a new personal best high series of 311, and participated in her very first Varsity tournament.
Courtney Dean Girls' Basketball Jr
Courtney, a junior, scored a game-high 11 points and grabbed four rebounds, had an assist and a steal in a loss at Turpin last week. She is third on the team in scoring with a 8.1 average per game and fourth in rebounding with 3.3 per game.
Jacob Ramstetter Boys' Basketball Sr
Jacob had 10 points, 11 rebounds, and 2 assists in a game this past week against LaSalle. Jacob is a multi-sport athlete (baseball/basketball) who has earned a 4.0+ GPA with an all AP and Honors course schedule.