Oak Hills High School News
Highlander GMC Athletes of the Week
Posted on: January 13, 2021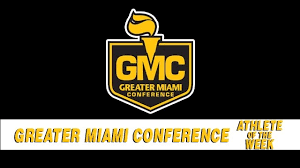 Congratulations to our Highlanders who were named GMC Athletes of the Week!
Adella Ruepert Girls' Swimming Soph
Adella swam in the Princeton Invitational this weekend, posting all personal bests. She dropped 3 seconds on her 500 free and 4 seconds on her 100 back. Her new time in the 100 back put her in a good position for the GMC's and sectionals, helping the team advance in the GMC standings.
Gia Hensley Girls' Swimming Fr
Gia is a part of the freshman group that has changed the level of performance for the girls. What Gia accomplished at the Princeton Invitational is all personal bests with a drop in the 200 IM of over 10 seconds and 2 seconds off her 100 free time.
Cece Sommer Girls' Swimming Fr
Cece, as a freshman, has already greatly contributed to the girls team. At the Princeton Invitational, Cece, or light Olson, had a personal best in the 100 fly, besting her previous time by 4 seconds. Her successes will continue as we enter the end-of-season tournaments.
Liz Savage Girls' Swimming Fr
Liz is another one of our freshman girls that is making a statement. She stepped up her game in an aggressive manner at the Princeton Invitational with a personal best of 1:12.71 in 100 free and 1:19.96 in the 100 fly. She will continue to contribute as the end-of-season tournaments approach.
Trevor King Wrestling Soph
Trevor had an outstanding showing this weekend. He earned two pins over district opponents Lebanon and LaSalle. Great job Trevor!
Anna Thomas Girls' Basketball Sr
Anna, a senior captain, tied her career-high in points with 22, grabbed 5 rebounds and recorded a season-high 3 steals in a loss at Lakota West. Anna is a 3-year varsity performer, a multi-sport athlete (soccer), and carries a GPA of 4.0.
Aaron Kuebel Boys' Swimming Sr
Aaron has truly become an essential part of the boys swim and dive team success. At the Princeton Invitational Aaron posted personal bests in the 100 free split in the relay and in the 200 IM with more to come as we finish off the season.
Sam Hart Boys' Swimming Soph
Sam has been working overtime this season. 6 AM practices and lots of hard work that has improved his times tremendously. At the Princeton Invitational Sam knocked off 7 seconds off his best time in the 500 free showing clear indications of dropping even more as he tapers at the end of the season.
Adonis Caneris Boys' Basketball Sr
Adonis contributed 33 points and 11 rebounds over Oak Hills' past 2 games. Adonis is an excellent student with a 4.0 GPA taking almost all AP and Honors courses.