Oak Hills High School News
Highlander GMC Athletes of the Week
Posted on: January 19, 2021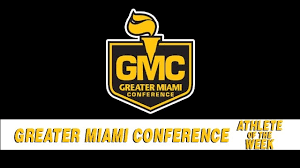 Congratulations to our Highlanders who were named GMC Athletes of the Week!
Connor Littelmann Boys' Bowling Jr
In a tough match with Colerain, Connor rolled a 426 series with games of 194 and 232. In just his second year in the program, Connor has shown great improvement in his game and leadership.

Madeline Seibert Girls' Bowling Soph
A new addition to the girls bowling team this year, Madeline had a great week. Not only was she a big reason the girls' bowling team made it to the top 8 elimination rounds of the Lancer Baker Bash last Sunday, but she also helped the JV team earn a win over St. Ursula on Monday with only 3 bowlers! Madeline rolled her new personal best game of 124 as well as her new personal best series of 220 in the match.
Anna Thomas Girls' Basketball Sr
Anna, a senior captain, averaged 15 points and 7 rebounds in leading the team to three wins in four games last week, including a 19 point, 6 rebound and 3 assist performance in the win over Hamilton. She is currently 8th in the GMC in scoring (12.6 ppg) and 4th in rebounding with a 7.0 average per game. Anna is an excellent student and carries a 4.0 GPA.
Emma Miller Girls' Basketball Sr
Emma, a senior captain, helped lead the team to three wins in four games last week, including a perfect shooting performance from the field in a 58-44 win over Unioto in the Journey to the Tourney. Emma was 5 of 5 from the field, including 2 of 2 from the 3-point line and finished with 13 points. Emma is an excellent student and carries a 3.89 GPA.
Alyson Schmidt Girls' Swimming Fr
Alyson continues to demonstrate hard work in practice and in meets. Despite struggling with running injuries all season, Alyson has taken on a tough role of a 500 swimmer late in the season. She will enter the most significant part of our season taking on this most challenging event for the team.
Donny Grote Boys' Swimming Soph
As a freshman, Donny took on the role as top diver for the boy's team. After a successful freshman year, Donny is setting his goals even higher this season. With his goal of making state, he entered the West Clermont Classic, which is similar to the Coaches Classic. He finished 4th overall, competing against the best in the Southwest District.