Side Menu Ends, main content for this page begins
Back to Side Menu (includes search)
Highlander GMC Athletes of the Week
Posted on: February 2, 2021 11:00 am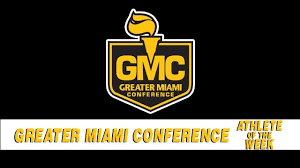 Congratulations to the Highlanders who were named GMC Athletes of the Week!
Dylan Pennekamp Wrestling Soph
Dylan had an outstanding week of wrestling, going 4-0. Way to go Dylan!
Connor Littelmann Boys' Bowling Jr
Connor led the boy's team in a hard-fought match against Mason averaging 235.5 with games of 257,214. Connor also at the East vs West rolled a 575 series averaging 191.7.
Brady Sabin Boys' Bowling Fr
Brady is currently averaging 175.4 as a freshman. Against Mason, Brady rolled a 371 series, and at the East vs West rolled a 573 series to average 191. Brady has stepped up to help the team out as a freshman.
Kateri Hennessey Girls' Bowling Sr
Kateri rolled her highest game of the year during Oak Hills' inaugural bowling tournament, The East vs. West Showdown! She led the Lady Highlanders with her 245 game and a nice series of 563.
Alana Uran Girls' Basketball Sr
Alana, a senior captain, came off the bench to spark the Highlanders in two victories. She scored five points, grabbed 3 rebounds and had 2 steals in a win over Fairfield and followed that performance up with a season-high seven rebounds in a win over Middletown. Alana is an outstanding student with a 4.0 GPA.
Anna Campbell Girls' Basketball Fr
Anna, a freshman guard, came off the bench to help the Highlanders in a win over Fairfield. She scored a career-high 7 points, grabbed 3 rebounds, and had an assist and a steal. Anna is an outstanding student and carries at 4.0 GPA.
Brian Ridner Boys' Swimming Sr
Brian has been a part of the Oak Hills family for the last few years. He has gotten to contribute this year as a recent transfer. He is a significant part of our relays and recently placed 6th in backstroke and 7th in fly at our GMC meet, helping the team place 3rd overall. Moving forward Brian will be a large part in our pursuit of another state trip.
Charlotte Logan Girls' Swimming Soph
Charlotte has endured a number of setbacks in her training this season. Despite the difficulties, Charlotte has continued to be aggressive in helping the team. At the GMC meet, she swam both the 200 and 500 free helping the team to a 5th place finish.