Side Menu Ends, main content for this page begins
Back to Side Menu (includes search)
Highlander GMC Athletes of the Week
Posted on: February 10, 2021 8:00 am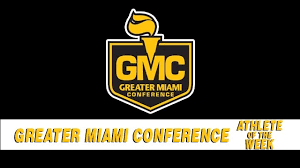 Congratulations to our Highlanders who were named GMC Athletes of the Week!
Joey Obert Boys' Swimming Sr.
Joey's hard work has paid off. He has qualified for the Southwest District meet as an alternate in the 50 free and in all 3 of the team's qualifying relays. As an alternate for last year's 2020 state team, he plans on help all 3 relays make state in 2 weeks.

Jack Hart Boys' Swimming Sr.
Jack is a big part of the team's successful season. Despite required surgery that kept him from competing at the GMC meet, Jack returned to the lineup for sectionals. He has been a varsity swimmer for all his four years at Oak Hills and his dedication to the team will be sorely missed.
Grace Scheckel Girls' Swimming Soph
Grace is in her first year as a varsity swimmer. Last year as a JV swimmer, Grace learned her strokes and worked on her endurance. This year she competed in both the 100 back and 200 freestyle at the sectional meet helping the team in leading their sectional bracket.
Maria Olson Girls' Swimming Soph
Maria went crazy fast at the sectional meet this weekend. She finished first in the sectional for 100 fly, dropped more than 2 seconds on her 200 IM and led off the district qualifying 400 free relay that dropped more than 15 seconds. She is a part of the up-and-coming swimmers that are transforming the girls' team.
Adam Wittich Wrestling Soph
Adam bumped up to wrestle Varsity and got a huge pin over Colerain! He did his job and helped earn six team points! Great job Adam!
Courtney Dean Girls' Basketball Jr
Courtney, a junior guard, scored a team-high 11 points, recorded 3 steals and a blocked shot in a home loss to Lakota West. She also did an outstanding job defensively against one of the top players in the state, holding her to six points below her GMC leading average.
Brynn Gourley Girls' Basketball Sr
Brynn, a senior forward, turned in two solid performances this week for the Highlanders. She scored 6 points and grabbed 2 rebounds in a loss to Sycamore and followed that up with her best defensive performance of the season vs. Lakota West, grabbing 3 rebounds, getting 4 steals and blocking 2 shots. Brynn carries a 3.87 GPA.
Jaxon Schreiber Boys' Basketball Soph
Jaxon is a 2nd-year varsity basketball player, a 3 sport athlete (Basketball, Baseball and Football), and he exhibits strong team-first character as a young man. Over our past 2 games against Middletown and Fairfield, Jaxon contributed 23 points and 11 rebounds. More than that, Jaxon exhibits leadership through his work ethic and attitude. He competes as hard as he can every possession. He is an excellent student as well earning a 3.8 GPA in Honors classes.