Side Menu Ends, main content for this page begins
Back to Side Menu (includes search)
Highlander GMC Athletes of the Week
Posted on: May 4, 2021 9:00 am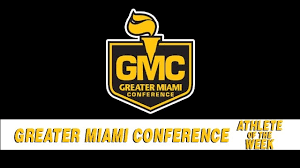 Congratulations to our Highlanders who were named GMC Athletes of the Week!
Jilian Yates Girls' Track Jr.
Jillian, a multi-sport student-athlete, has experienced some ups and downs this season but hasn't let the competitive edge suffer because of it. She threw a huge personal best in the shot put on Friday at the Ross Invitational to win the event. Her dedication and cerebral approach to the throwing events leaves no doubt that she has the ability to finish the season as the top thrower in the GMC and that her best tosses are yet to come.
Jeremy Conners Boys' Track Jr
Jeremy, a multi-sport student-athlete, is competing in his first season as a thrower. He got off to a quiet start, but his last few weeks have been very exciting to follow. He is quickly establishing himself as a dependable and fierce competitor. At the Ross Invitational this past Friday, he placed 4th in discus and 5th in shot put. Both performances were sizable personal bests.
Maeve Fink Softball Soph Maeve plays 1b for the Highlanders. She is a selfless catcher who focused on another position to help fill a team need. She has worked to become an outstanding corner. Maeve was hot this past week going 11-19 (.579). She had 11 RBI, a home run, 1Double and 2 walks. Maeve also swiped a handful of bases during the Highlander's 5-1 week. Maeve is not only a standout vocal leader on the field, but also a leader in the classroom. Maeve was recently inducted into the National Honor Society.
Nate Aug Baseball Sr
Nate, a multi-sport student-athlete, was 5 for 7 on the week with 2 doubles, a home run, 6 runs scored, and 5 RBI's. He tacked on 3 walks and an HBP as well.
Michael McClurg Boys' Tennis Jr
Junior captain, Michael McClurg, is currently 6-3 on the season playing either 1st or 2nd doubles. Michael has played with multiple doubles partners on the season, and always does a great job of leading his teammate. Outside of tennis Michael spends time working at the Kids Club at his church and is also a member of NHS.

Ben Black Boys' Lacrosse Sr
Ben was able to help the Highlanders beat Archbishop McNicholas. Ben fought hard on ground balls and also scored two goals while also assisting on another during the win.