Side Menu Ends, main content for this page begins
Back to Side Menu (includes search)
Highlander GMC Athletes of the Week
Posted on: May 18, 2021 8:00 am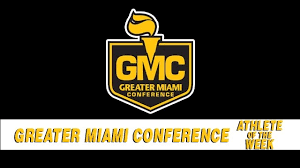 Congratulations to our Highlanders who were named GMC Athletes of the Week!
Eric Schaumloffel Boys' Tennis Soph
Eric, along with his partner Owen Ziebro, became the first Highlanders to qualify for districts in 13 years at Oak Hills. Eric and Owen defeated Turpin, Moeller, and Lasalle to qualify. During the season, Eric was 8-6 at first singles. In addition to playing tennis, Eric is the class president of the class of 2023. Furthermore, Eric works at Delhi Pet Center, is a member of NHS and maintains a 4.0 GPA.
Owen Ziebro Boys' Tennis Soph
Owen, along with his partner Eric Schaumloffel, became the first Highlanders to qualify for districts in 13 years at Oak Hills. Eric and Owen defeated Turpin, Moeller, and Lasalle to qualify. Owen went 16-5 during the regular season while mostly playing doubles. Outside of tennis, Owen plays soccer and wants to go to college to become an engineer or work in interior design.
Johnathon Vanover Boys' Lacrosse Sr
Johnathon was on fire for the Highlanders in the 14-13 OT win versus Fairfield in the playoffs this past weekend. While playing midfield Vanover scored 5 times while adding an assist and one of those scores was the game-winner to keep the season alive.
Gretchen Hansen Softball Fr
Gretchen Hansen has played an active role for the Highlanders this season. One of two freshmen on varsity she's played in 26 of the 28 games. Gretchen has played many roles- outfield (right field, center, left), she has pinch ran, curt ran and has DP'd. Gretchen does whatever is asked of her. She works hard and puts the time in to keep getting better. In league games, Gretchen hit .333, scored 21 runs, and collected 8 stolen bases. Gretchen has made some key diving catches in the outfield- including one at Lakota West with runners in scoring position. Gretchen is a vital part of the Highlanders' successful season as a roleplayer willing to do what the team needs in place of her own wants. Gretchen also holds herself to a higher standard in the classroom. She has maintained 3.84 GPA while taking 4 honors classes during her freshman year.
Eva Hensley Girls' Track Fr
Eva has had an outstanding freshman year thus far. Most recently, she managed a second place finish in the 3200m run at the GMC Championships. Eva came up with and successfully executed her own race strategy, which normally takes a huge amount of experience, making this uncommon for a freshman. Her time was a personal best. She was also a crucial part of the 4x800 relay team's 4th place finish.
Brayden Holland Boys' Track Fr
Brayden's freshman year has exceeded expectations so far. He has been a consistently strong force in the 400m and 800m. Without him, our boys 4x400 and 4x800 relays wouldn't be experiencing so much success. It's not normal to look at a relay team and say that a freshman is the most consistent member, but Brayden has earned that distinction. He helped the Highlanders to a 3rd place finish in the 4x800 and a 1st place finish in the 4x400 at GMC Championships. Brayden is an excellent student and a multi-sport athlete.