Side Menu Ends, main content for this page begins
Back to Side Menu (includes search)
Highlander GMC Athletes of the Week
Posted on: May 25, 2021 8:00 am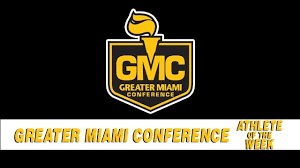 Congratulations to our Highlander GMC Athletes of the Week!
Wyatt Fisher Baseball Sr.
Wyatt Fisher was nothing short of spectacular yet again in The Highlanders 2nd round 6-2 victory over Anderson on Thursday. He pitched 6 strong innings, only gave up 3 hits, and struck out 8 hitters earning another Win which puts him at 6-0 on the season. Wyatt has a .750 ERA on the season and in 46.2 innings, has only given up 29 hits while striking out 59.
Alyssa Giordano Girls' Softball Soph
Alyssa was a vital role player for the Highlanders this season. She juggled multiple responsibilities on the varsity between outfield, catcher, designated player, and pinch hitter. She also floated between JV and Varsity to keep up on playing time to stay fresh when she was called upon by varsity. Alyssa hit .500 in the GMC and .385 overall during her 13 at-bats for the Highlanders. She slugged .700 and had a.643 OBP within the GMC. Alyssa always did what was asked. She kept pitchers warmed up in the bullpen until she was called on. She was always ready when needed and though the role was less than desirable, she always did what was asked and needed for the betterment of the team. Alyssa is a multi-sport athlete at Oak Hills and excels in athletics and the classroom. Alyssa is an active member of the National Honor Society.
Kallie Watts Girl's Track Sr.
Kallie had the most unexpected performances of the week at the district track and field championships. After spending most of the year hurdling and taking part in sprint relays, Kallie decided she wanted to take a different route at districts. She is an extremely versatile athlete, with many specialties, and decided to long jump and high jump. Before the meet started, Kallie wasn't ranked anywhere close to placing in the top 4 in either event. However, she had the meet of her life by placing 3rd in high jump and 4th in the long jump! She will be competing in both events this week at the regional championship.
Zack Kroger Boy's Track Sr.
Zack was the anchor leg in the 4x800 relay at the district track and field championships. During the 4th leg, his competitors were closing on him, threatening to leave the Highlanders at home next week. Zack ran the best time of his life in what could have been the last race of his high school career. He maintained the 3rd place position that his teammates set him in and helped to earn a trip to the regional championship this week.