Side Menu Ends, main content for this page begins
Back to Side Menu (includes search)
Highlander GMC Athletes of the Week
Posted on: January 3, 2023 1:00 pm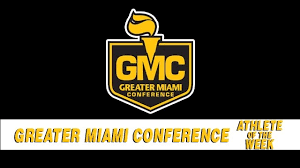 Congratulations to our Highlanders who were named GMC Athletes of the Week!
Riley Philpot Girls' Basketball Soph
Riley, a sophomore guard, came off the bench to score a season-high 9 points on 3 of 8 shooting from the three point line in a loss to Harrison. Riley also grabbed 2 rebounds and 2 assists for the Highlanders. Riley is an outstanding student and a two year varsity performer.
Wyatt Ferguson Boys' Wrestling Sr.
Wyatt Ferguson recently won the GMVWA Holiday Tournament. This tournament hosted 65 teams and Wyatt pinned his way through the tournament not making it past the second period. This brings his record to 18-0 on the season.
Lexi Grant Girl's Wrestling Sr.
Lexi Grant recently won the Lady Eagle Wrestling Tournament. On the day she beat the #7, #15, and #16 ranked girls in the state. After these victories in the most recent rankings Lexi is listed as #6 in the state.
Brayden Holland Boys' Basketball Jr.
Brayden's contribution was not necessarily in the scoring column but he helped Oak Hills win their first 2 games in the Carolina Invitational. Brayden hauled down 12 rebounds and had 4 assists in the first 2 games. Brayden isa multi-sport athlete with a 4.0 GPA.
Jaxon Schreiber Boys' Basketball Sr.
Jaxon, a team captain, scored 40 points, had 10 rebounds and 3 steals in Oak Hills first 2 tournament wins. Jaxon is a multi-sport athlete, and has earned a 3.3 GPA.
Brycen Kessler Boys' Basketball Jr.
Brycen, a team captain, played his best game this season in the Carolina Invitational. Brycen scored 11 points but more importantly played his best game defensively as well. Brycen is a multi-sport athlete, and also has a 4.0 GPA with an AP and Honors course schedule.