Side Menu Ends, main content for this page begins
Back to Side Menu (includes search)
Highlander GMC Athletes of the Week
Posted on: January 10, 2023 10:00 am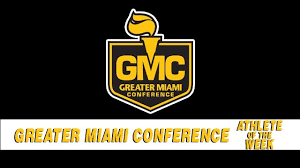 Congratulations to our Highlanders who were named GMC Athletes of the Week!
Chazz Tallarigo Boys' Wrestling Soph
Chazz had a great week of practice and a great weekend at the Ron Masanek Fairfield Wrestling Tournament. Chazz went 3-2 beating some stiff competition and finishing in 4th place. He was also voted a team captain early this season by his teammates and continues to excel in the classroom.
Tyler Obert Boys' Swimming Sr
Tyler is a Senior with a 4.0 GPA and a great presence in the pool. This weekend, at the Princeton Invitational, he placed 11th in the 100 Fly, 18th in the 100 Free, 5th on the 200 Free Relay, and 8th on the 400 Free Relay. Tyler is a wonderful leader on the team and an incredible motivator and supporter of his teammates.
Delaney Paff Girls' Swimming Sr
Delaney is a Senior with a 4.0 GPA and a hard worker in and out of the pool. Her dedication to practices and to her teammates has shown in her mid season swims as she has achieved personal best times in her 50 Free and 100 breaststroke. Delaney's motivation to be her best is evident in practice and in meets. She is a true asset to this team!
Bella Dehner Girls' Basketball Fr
Bella, a freshman guard, came off the bench to score a team-high 10 points, grab 4 rebounds and record 2 steals in a win over Hamilton. She followed that performance up with another quality game against Fairfield, scoring a big basket early in the second quarter along with a steal and an assist to help the Highlanders rally from a 12 point deficit and win the game.
Erykah Cornett Girls' Basketball Sr
Erykah, a senior guard, scored a career-high 17 points to lead Oak Hills past Fairfield in a big GMC win. Erykah also connected on 7 of 9 free throws, shot 50 percent from the field and grabbed 4 rebounds, had four assists and three steals for the Highlanders. She is second in the GMC in steals per game, fifth in assists and sixth in rebounds. Erykah is team captain and is an outstanding multisport athlete, having earned a Division 1 scholarship to Northern Kentucky University to play soccer for the Norse next fall.
Ayva Moore Girls' Basketball Soph
Ayva, a sophomore guard, moved into the starting lineup this season and has been one of the team's most consistent performers. She had one of her best games of the season this past week at Hamilton, scoring six points, grabbing a team-high seven rebounds and recording five steals in the win over the Big Blue. Ayva is an outstanding student and a member of the Oak Hills soccer team as well.
Brandon Stidham Boys' Basketball Jr
Brandon has made major improvements this year. Playing mostly JV minutes to this point in the season, Brandon has committed extra skill work time and demonstrated a positive work ethic in practice, both of which have helped him improve. Brandon also encouraged and organized teammates to get extra work in as well. He also volunteered to tutor elementary students and to help with water damage cleanup at Delhi Middle School. Brandon is a 3-sport athlete with a 3.5 GPA.
Kyle Toon Boys' Basketball Sr.
Kyle, a team captain, makes major contributions every day that don't necessarily show up in a box score. Kyle leads by example and with his words. He gets up extra shots almost every day, encourages and coaches teammates, shows up with a smile on his face, and competes hard. Kyle is in the culinary arts program at Diamond Oaks and is a multi-sport athlete with a 3.3 GPA.