Side Menu Ends, main content for this page begins
Back to Side Menu (includes search)
Highlander GMC Athletes of the Week
Posted on: January 17, 2023 1:00 pm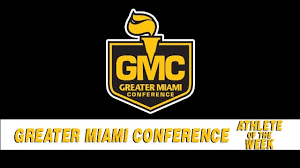 Congratulations to our Highlanders who were named GMC Athletes of the Week!
Anna Campbell Girls' Basketball Jr.
Anna, a junior guard, came off the bench to score a career-high 16 points on 6-11 shooting from the field, including 4 of 8 from 3 point land, to lead Oak Hills past Sycamore last week. Anna also contributed 5 rebounds, 2 steals and 2 blocked shots in the win. She grabbed a game-high 7 rebounds in a win over Fairfield that same week. Anna is an outstanding student and a three-year member of the varsity basketball team.
Teagan Charles Girls' Swimming Sr
Teagan is a senior swimmer that continues to be a positive presence in and out of the water. She swims backstroke on the 200 Medley Relay and 100 back and 200 IM for individual events. Teagan continues to be dedicated in the pool to achieve her personal best times and in the classroom to maintain her 4.0 GPA.
Emily Lipps Girls' Bowling Sr.
Emily is a second-year bowler on the Varsity A girls bowling team. Emily has improved her average by almost 30 pins in just a short year and even won the Cincinnati Enquirer Girls Bowler for the week of January 9th!
Evan Wildenmann Boys' Swimming Sr.
Evan is a model student athlete with a 4.0 GPA and is 8th in his class. He continues to make waves in the water by achieving some of his best times mid season. This weekend he was on three relays that placed top 16 at the Southwest Ohio Coaches Classic Meet that is the world's largest high school meet of the year. His 200 Free Relay placed 16th, the 400 free relay 14th, and the 200 Medley Relay 13th. Evan's goal is to head to State with his teammates in February!
Kylie Ruthven Girls' Bowling Fr
Kylie is a member of the JV girls bowling team, and is really starting to show some serious growth since the beginning of the season! Kylie came to the team with very little bowling experience, averaging just around 95 pins per game. She is now up to an average of 103 pins per game, and even rolled her new highest game ever, a 148 during the match at Middletown on Wednesday the 11th!
Omarion Carter Boys' Wrestling Sr.
Omarion had a great weekend at the Maumee Bay Classic at Clay High School. He was able to make his way through a tough 144lb bracket falling one match short of placing. He rattled off 3 wins but lost a heartbreaker in the blood round. Looking forward to seeing how his season ends.
Elias Wheeler Boys' Basketball Jr.
Elias, even though he played limited time due to foul trouble, contributed 4 points and 1 rebound AND most importantly- took his first charge of his career in a win this past Friday night. Elias is a multi-sport varsity athlete, who tutors elementary school students and has a 3.0 GPA.
Max Rhodes Boys' Basketball Fr
Max contributed 9 points, making a huge 3 at the end of the third quarter, and 9 rebounds in a win this past Friday. Max is a multi-sport varsity athlete who tutors elementary school students, and has a 4.0 GPA.