Side Menu Ends, main content for this page begins
Back to Side Menu (includes search)
Highlander GMC Athletes of the Week
Posted on: January 24, 2023 2:00 pm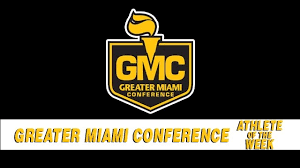 Congratulations to our Highlanders who were named GMC Athletes of the Week!
Tanner Iles Boys' Bowling Soph
Tanner led the East vs West tournament individually with a 735 series averaging 245 for 3 games. He also stepped up to help the boys win the West and finish 2nd on the day. He currently is leading the GMC with a 214 average.
Brady Sabin Boys' Bowling Jr
Brady made the All tournament team at the East vs West with a 640 series. Brady has stepped up this season to help the boys remain defeated and he currently is 11th in the GMC averaging 197.5.
Grace Scheckel Girls Swimming Sr.
Grace is an excellent student athlete who embodies strength and positivity. She is dedicated to her sport and teammates and continues to show her support for them in practice and competition. Her efforts in the pool have helped her achieve some of her best times over the last few weeks. Grace has a 4.0 GPA and is 37th in her class.
Sam Hart Boys' Swimming Sr.
Sam has been a part of the Boys Swim Team for 4 years and has made a positive impact on this team. He is a positive presence and willing to help the underclassmen in any way he can. Sam started the season strong with a personal best time at Best of the West and he continues to make strides in the pool! He was on the relays that placed in the top 16 and top 8 at the Southwest Ohio Classics. Sam maintains a 4.0 GPA and is 68th in his class.
Lexi Grant Girls' Wrestling Sr.
Lexi went 5-0 over the weekend bringing her season record to 21-0 and currently ranked #6 in the state. Lexi continues to buy into the program, works extremely hard, and the results speak for themselves. Looking forward to seeing how her senior season finishes.
Anna Campbell Girls' Basketball Jr.
Anna, a junior guard, continued her torrid scoring streak last week. She averaged 13 points in 3 games, including a career-high 18 points in a close loss at Lakota West. She also contributed 4 rebounds and 2 assists per game and shot 8-of-15 from three point range in those three games. Anna is an outstanding student and a three-year member of the varsity basketball team.
Albert Loving Boys' Wrestling Soph
Albert Loving went 5-0 this weekend and helped lead our JV team to win the Eagle Rumble at Walnut Hills High School. This was a varsity tournament and it was nice to see the team and Albert winning and having fun doing it! This week we will wrestle against Elder and Little Miami and look to continue the success.
Kate McMullen Girls' Basketball Sr
Kate, a senior forward and co-captain, scored in double figures in 2 of three games this past week. She grabbed a team-high 6 rebounds and scored 10 points in a close loss at Lakota West and added 10 points and three rebounds in a win over Mercy McAuley. Kate is an outstanding student and one of the hardest working players in the GMC.

Ava McAmis Girl's Bowling Soph
Ava had a great day at the East vs. West Showdown tournament this past Sunday. Ava currently holds an average of 107 per game, but on Sunday, she rolled a 2-game series of 333, averaging more than 166 pins per game! She also rolled a new personal best high game of 176. Over the past two weeks, Ava has really stepped up and has made great strides!
Kenzie Goff Girls' Bowling Sr.
Kenzie had a great showing during our match with GMC rival Sycamore this past Wednesday. Kenzie led the Varsity A team with a 2 game series of 340, a new personal best! She also rolled her current highest game for this season, a 183 during the match.
Bobby Stidham Boys' Basketball Jr.
Bobby scored 15 points and grabbed 10 rebounds in a recent game against Hamilton. he has been very consistent with effort, attitude and leadership this season. He attends Diamond Oaks and has been a great teammate all year. Bobby is also a 3 sport athlete- Basketball, Football and Baseball.