Side Menu Ends, main content for this page begins
Back to Side Menu (includes search)
Highlander GMC Athletes of the Week
Posted on: January 31, 2023 10:00 am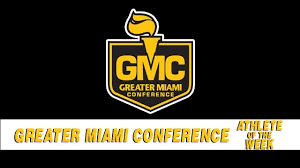 Congratulations to our Highlanders who were named GMC Athletes of the Week!

Keith McCalla Boys' Bowling Sr.
Keith helped the boys team stay undefeated in a win against Lakota West rolling a 478 series including a 277 game. Keith is currently in the top 15 in the GMC in average, and has been a leader on the team.

Dawson Wagel Boys' Bowling Jr.
Dawson has stepped up to any challenge the team has asked of him this season. He rolled a 406 series at the JV Lancer Challenge this past weekend. Dawson has greatly improved his game since last year and is constantly getting better.

Kendall Crum Girls' Bowling Sr.
Senior Kendall Crum has only been a member of the girls bowling team for 2 years, but has made amazing progress in such a short time. She finished her 1st year on the Junior Varsity team with an average of 120 pins per game; this season, she is a member of the Varsity A team and has averaged more than 143 pins per game. This week, in the match with Lakota West, she rolled her new personal best game as a Highlander, a 187!

Erykah Cornett Girls' Basketball Sr.
Erykah, a senior guard, scored 8 points, grabbed 9 rebounds and dished out 6 assists in a 50-18 win over Hamilton on Senior Night. She also had 8 points, 4 rebounds and 3 assists in a one-point loss to Mt. Healthy.

Kate McMullen Girls' Basketball Sr.
Kate, a senior forward, scored 9 points, grabbed 3 rebounds and had 2 assists in a 50-18 win over Hamilton on Senior Night. She also scored a team-high 11 points on 5-7 shooting, grabbed 4 rebounds and had 2 blocked shots in a loss to the No.1 rated team in the state, Mason.

Caleb Logsdon Boys' Wrestling Soph
Caleb stepped up big during the dual vs. Little Miami last Friday night. He was able to get bonus points via a fall and help lead the varsity to a 36-33 Victory over Little Miami.

Lillie Anderson Girls' Wrestling Fr
Lillie went 2-0 in our first ever home match at Oak Hills High School. She has continued to work hard and her success is showing it. We know she can finish strong.

Steven Sanders Boys' Basketball Sr.
Steven, a multi-sport athlete (football, Basketball, Track), has been a strong inspiration in practice. Steven embraced his role of helping prepare our team for each game.He has enthusiasm and energy each practice and game. His team first attitude despite limited playing time is rare in today's athletic world.