Side Menu Ends, main content for this page begins
Back to Side Menu (includes search)
Highlander GMC Athletes of the Week
Posted on: February 21, 2023 9:00 am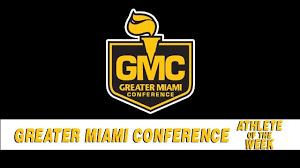 Congratulations to the Highlanders who were named GMC Athletes of the Week!
Erykah Cornett Girls' Basketball Sr
Erykah, a senior guard and team captain, scored a team-high 12 points, grabbed 7 rebounds and recorded 5 steals in her final game as a Highlander, a 48-34 loss to Loveland in the sectional tournament. Erykah finished the season ranked second in the GMC in assists per game (3.4), second in steals per game (3.2), and 6th in rebounds per game (6.0).
Annabelle Hageman Girls' Swimming Soph
Annabelle is a Sophomore on the Swim Team and has qualified two years in a row to Districts. This weekend she was a member of the 400 Free Relay that placed 17th in the Southwest District. On the relay, Annabelle achieved her personal best split of 59.96 for the season. Annabelle maintains a 3.6 GPA and we look forward to her next two years!
Jack Ludwig Boys' Swimming Soph
Jack is a Sophomore on the Swim Team and qualified for this year's District Meet in the 200 Medley Relay and as the 2nd Alternate in 100 Breaststroke. In the meet this weekend, his relay placed 19th in the Southwest District and his split of a 29.56 was one of his fastest all season. Jack has a 4.0 GPA and has a bright future in the pool. We can't wait for next season!
Bella Dehner Girls' Basketball Fr
Bella, a freshman guard, came off the bench and played a season-high 18 minutes in the sectional loss to Loveland, scoring a basket, grabbing 2 rebounds and dishing out an assist. Bella also played outstanding defense throughout the game, helping to keep the Highlanders close until the very end of the contest.
Bobby Stidham Boys' Basketball Jr
Bobby had 14 points and 6 rebounds, despite spraining his ankle in the 3rd quarter of the tournament loss. Bobby is a 3 sport athlete who had a great season and we look forward to his senior season.
Trent Murphy Boys' Basketball Jr
Trent had 10 points, 3 rebounds, 3 steals and 2 assists in the recent tournament loss. Trent is a 2 sport athlete with a 4.0 GPA who had a great season and we look forward to his senior season.
Maddie Broxterman Girls' Bowling Fr
At the final match and the final tournament of the 2022-2023 season, Freshman Maddie really shined! During the match with Mason, Maddie was the 2nd highest scorer of the night, rolling her new personal high game, a 211, and a 164 for a great 375 series! The next day, at the Conference Clash Tournament, Maddie helped lead the Varsity B team to a 7th place finish averaging 152 pins per game, almost 20 pins above her current average!
Emma McCarthy Girls' Bowling Sr
Senior Emma McCarthy ended her Oak Hills Girls Bowling career on a very high note! During the match with Mason she had a great series of 340, averaging 170 pins per game. The next day at the Conference Clash Tournament, she led the Varsity B team with games of 180, 184, and 128 for a fantastic series of 492!