Side Menu Ends, main content for this page begins
Back to Side Menu (includes search)
Highlander GMC Athletes of the Week
Posted on: April 4, 2023 12:00 pm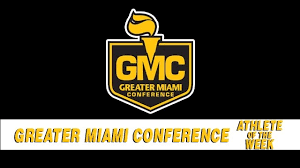 Congratulations to our Highlanders who were named GMC Athletes of the Week!
Brayden Holland Boys' Track Jr.
Brayden ran two personal bests on Wednesday at Ross. He led off the winning 4x800 relay with a split time of 2:00.0. He also ran a very speedy time of 50.06 in the 400m dash. Although it is early in the season and many teams haven't competed yet, it is still worth mentioning that the 4x8 and 400m times are both ranked top 5 in the state right now! Brayden is a multi-sport athlete and holds a 4.0 GPA.
Maya Hill Girl's Track Fr.
With just two high school meets under her belt, Maya has already established herself as one of the top sprinters on the team this year. She placed 4th in the 100m and 3rd in the 200m at Ross on Wednesday.
Avery Gottlieb Softball Sr.
Avery has started the season off with a bang as a key contributor in the 3-0 start coming off an All State performance last year. Avery hurled 32ks in 18 innings holding a .389 era against the first three matchups. Avery leads both on and off the field with a 3.98 gpa.
Madison Coster Girl's Lacrosse Jr
Madison scored the winning goal in overtime for Oak Hills first win against Mercy McAuley. She had 9 Draw Controls, 3 ground balls and 4 goals in the win. Also, Madison is a 4.0 honors student.