Side Menu Ends, main content for this page begins
Back to Side Menu (includes search)
Highlander GMC Athletes of the Week
Posted on: April 25, 2023 12:00 pm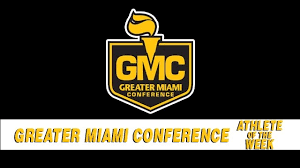 Congratulations to our Highlanders who were named GMC Athletes of the Week!
Paul Nienaber Boys' Tennis Sr.
Paul earned the 40th Varsity win of his career. He will be attending the University of Cincinnati for Marketing management and Technology.
Wyatt Ferguson Baseball Sr.
In 3 games this week, Wyatt went 7 for 9 with 3 RBI and 2 runs scored. He is leading the team with a .439 batting average and a .531 on base percentage.
He is an excellent student and a multi-sport athlete who will attend Davidson next year on a wrestling scholarship.
Niki Bode Softball Sr.
Niki holds the lead off spot down for the Highlanders. Hitting .510 with 19rbis, 2hr, 2 doubles, and she has scored 21 of the team's runs. Niki is a big part of the team's solid defense at shortstop and a key contributor in their 15 game winning streak. Niki is a leader both on the field and off holding a 4.0 gpa and sits 25th in her class. She is a NHS and Spanish Honor Society member.
Annabelle Hageman Girl's Track Soph.
Annabelle has been running really strong in the 800 meters the last few weeks. On Friday, she won the open 800 meters and was the 2nd leg of the winning 4x800 relay team. She is ranked #8 in the GMC in the 800 meters. Annabelle is a three sport varsity athlete. She is also on the Cross Country and Swim and Dive teams.
Aidan Whitaker Boys' Track Jr.
Aidan has established himself as the top thrower at Oak Hills. He recently placed 7th in shot put and 4th in discus with a new personal best of 112' 3" at Elder. Aidan continues to progress each week and is on pace to becoming a big contributor in the near future.