Side Menu Ends, main content for this page begins
Back to Side Menu (includes search)
Highlander GMC Athletes of the Week
Posted on: May 16, 2023 12:00 pm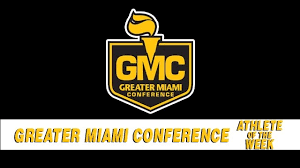 Congratulations to our Highlanders who were named GMC Athletes of the Week!
Bradey LaGreca Baseball Sr.
Bradey had a great week at the plate for the Highlanders. He was 7 for 10, scoring 3 runs, and stealing 2 bases. He has done a terrific job in the leadoff spot and has played well defensively at shortstop. Bradey will be attending and playing baseball at Olive-Harvey College in the Fall.
Emma Messinger Softball Soph
Emma has been a vital part for the Highlanders. She sacrificed a season playing jv to roleplay on varsity. She runs every game for our pitcher and at times other players. Her speed and base smarts played a big part in scoring 26 runs and 16 stolen bases. Self-less players like Emma have been a huge contribution to Highlanders 25-1 season record. Emma also does her part in the classroom and carries a 4.0.
Sammy Swafford Softball Jr.
Sammy has been a vital role for the Highlanders. She has one of the biggest behind the scene- less desirable jobs. Sammy works hard every practice and games to share catching duties behind a senior catcher. When she is not in the game she is pulling pitchers each inning to warm-up and ensure they are ready to go if a pitching change is needed. She actively communicates with the coaching staff what is working and what isn't. Sammy's role is one that does not get all the publicity but without her the pitchers wouldn't be ready come game time. She excels not only on the softball field but in the classroom as well. Sammy carries a 4.0 and is a member of the National Honor Society.
Anna Marchioni Girls' Lacrosse Sr.
Anna plays Attack and had 3 Goals, 2 Assists, 8 Draw Controls and 2 Ground Balls in a 17-3 win against Princeton High School. Anna has been a key offensive player this year and has a 3.71 GPA
Vasia Russell Girls' Track Soph.
Vasia established herself this season as one of our top sprinters. She has run great times in the 100 and 200 and been a key member of our 4x100 and 4x200 relay teams. Vasia helped both teams place in the GMC championship and is one of the girls the team can rely most on to be a solid relay runner. Even though she is only a sophomore, she has begun to assume a leadership role among her fellow sprinters.
James Walz Boys' Track Jr.
James is an extremely dedicated member of our team who does everything he can to improve. He is proficient at all three sprint distances and runs on the 4x100, 4x200 and 4x400. James has been one of our top 400m runners all season, but had the best race of his life so far in the GMC championships 4x400. James ran over a 2 second personal best of 50.0 to help his team to a new school record in 4x400, which previously stood for 51 years. The boys ran 3:21.43, which currently ranks as the #6 time in the state of Ohio.
Julien Cox Boys' Track Sr.
Julien has been the foundation of our sprint relays all season long, leading both the 4x100 and 4x200 to GMC finals. He also made a late season bid to make the 4x400 team, which he earned with certainty. He has run very solid times over the 400m distance the last 3 weeks and most recently helped his team to a new school record in 4x400, which previously stood for 51 years. The boys ran 3:21.43, which currently ranks as the #6 time in the state of Ohio.