Side Menu Ends, main content for this page begins
Back to Side Menu (includes search)
Highlander GMC Athletes of the Week
Posted on: May 23, 2023 9:00 am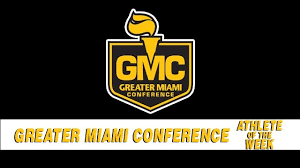 Congratulations to our Highlanders who were named GMC Athletes of the Week!
Josie Williams Girls' Track Fr.
Josie has had an outstanding freshman season. She has been an incredibly positive and supportive team member as well as a standout in the long sprint events. Josie was part of the 5th place 4x200m relay team at the District championship, which finished just 0.25 seconds off the school record. She also made the District finals in the 400m and 4x400m relay team, in both of which she finished 7th.
David Surman Boys' Track Jr.
David has been unstoppable the last few weeks. Almost every race he has run has been a new personal best. He qualified to the Regional Championship in 3 events. David was part of the 3rd place 4x400 relay team and 1st place 4x800 relay team. He also ran a 9 second personal best to finish 3rd in the 1600m.
Syd Lefever Softball Sr.
Syd played a vital role for the Highlanders staying ready all season when she was called upon in the circle to close games. Syd stepped up big and changed her role as a closing pitcher to a starting pitcher when a teammate was injured- bringing home 2 big postseason wins. Syd was selfless all season long and always willing to do what the team needed. She had one of the best attitudes on the team- always positive, happy, and eager to learn. She worked hard every day, although stats do not show her behind the scene contribution, she was a big part of the team's success. Syd is a true Highlander.
Kyler Frede Baseball Sr.
Kyler threw a complete game no-hitter in the first round of the state tournament. He also had a single and an RBI in his only at bat of the season.