Side Menu Ends, main content for this page begins
Back to Side Menu (includes search)
Highlander GMC Athletes of the Week
Posted on: August 22, 2023 9:00 am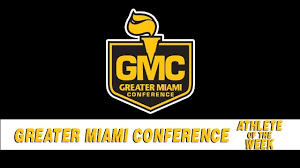 Congratulations to the Highlanders who were named GMC Athletes of the Week!
Joel Harris Boys' Soccer Sr.
Joel had two goals and an assist helping propel us to a 4-2 win against Ross.
Connor Muhlen Boys' Soccer Sr.
Connor scored a goal from the central defensive midfield position in a 4-2 win against Ross last week. His awareness in the middle of the field has enabled us to stay organized defensively and counter offensively early in the season. Connor has a 4.0 GPA and is a member of NHS.
Katie Mitchell Girls' Soccer Sr.
Katie played a vital part in the teams win this past Thursday at West Clermont. She had 2 assists and was dangerous in the attack for the Highlanders. Katie will play a pivotal part to the team's success this year. Katie also excels in the classroom with a 3.54 GPA.
Owen McChristian Football Sr.
Owen McChristian had 7 solo tackles, 1 assist, and 3 pass deflections in Friday night's game at Turpin.
Max Supe Football Jr.
Max had 103 yards receiving, 7 yards running, had 30 yard passing, punted for an average of 40 yards/punt, returned 2 punts, and 2 kickoffs. Max is also a multi-sport athlete with a 4.0 G.P.A.
Elyse Kinzie Girls' Cross Country Soph
Elyse has had an incredible summer of training. She works hard everyday at practice and has continued to improve each week. She is always motivated and determined to do her best. At the OHSAA Preseason meet this weekend Elyse pushed the pace from the beginning and ended up running close to a personal best time in just the first meet of the season. Elyse also runs track and is on the swim team. Elyse also holds a 3.78 GPA.