Side Menu Ends, main content for this page begins
Back to Side Menu (includes search)
Highlander GMC Athletes of the Week
Posted on: August 29, 2023 9:00 am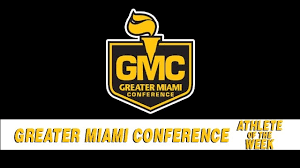 Congratulations to the Highlanders who were named GMC Athletes of the Week!
Ben Stamper Boys' Soccer Jr.
Ben scored two goals this week leading the team to 2-0 victory against LaSalle and had the only goal in a 3-1 loss to Milford. Ben has contributed points with either an assist or goal in all four games we have played this season . Ben is a member of NHS and has a 4.0 GPA.
Cannon Chirumbolo McKee Boys' Soccer Jr
Cannon had an assist in Oak Hills 2-0 win at LaSalle from the goalkeeper position and also contributed to the securing the shutout in the second half. Cannon has a 3.98 GPA.
Bryce Korb Boys' Cross Country Soph
Bryce ended the season last year as Oak Hills' 19th fastest runner. He started this season as the 6th fastest runner! The improvements Bryce has made aren't due to luck, nor are they a surprise. His consistent dedication this summer and the belief he has in himself have helped elevate him to the next level.
Max Rhodes Football Soph
Sophomore captain Max Rhodes led the Highlanders with 18 tackles and a forced fumble in Friday's game again Mason. Max is a standout multisport athlete and a two year varsity starter for the Highlanders. Max also owns a 3.95 GPA.
Jeremiah Triggs Football Sr.
Senior Jeremiah Triggs racked up 5 receptions for 40 yards and a touchdown and a fumble recovery versus Mason.
Eva Hensley Girls' Cross Country Sr.
Eva ran a very competitive race in the heat Friday night, placing third at the Buckeye Running Sunset Invitational. She improved her time by one minute from the previous week, running a time of 18:59. This time currently places her 4th in the GMC. Eva is a varsity athlete in both Cross Country and Track and Field. Eva is an excellent student with a 3.9 GPA.
Presley Pennekamp Girls' Soccer Jr.
Presley, a Junior Captain, had 6 goals and 2 assists this past week to help the Highlanders go 2-1 on the week. Presley currently leads the GMC in goals and points all while helping the Highlanders to a 3-1 overall record on the season. Presley also is an outstanding student with a 3.7 GPA, taking 2 AP courses and 2 honors courses.
Alexis Lackey Girls Volleyball Sr.
Alexis has provided leadership in our early season as a senior captain. She has a 4.0 GPA and just received the College Board National Recognition Award!