Side Menu Ends, main content for this page begins
Back to Side Menu (includes search)
Highlander GMC Athletes of the Week
Posted on: September 19, 2023 9:00 am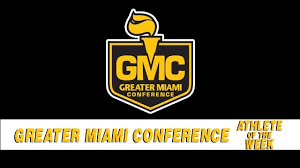 Congratulations to our Highlanders who were named GMC Athletes of the Week!
Brayden Holland Boys' Cross Country Sr
Brayden has been the top runner on our team for most of the season so far. He has come a long way after dealing with adversity his last couple years. Brayden's work ethic is an excellent example for the rest of the team; he never has a bad day of training and never gives up. The consistency that he brings to practice everyday has helped to elevate him as a great runner. Brayden is also an excellent student with a 4.0 GPA, and he is a multi sport athlete running track in the spring.
Collin Wilson Boys' Soccer Soph
Collin recorded a goal and an assist against Mason, leading Oak Hills to a 2-2 tie. He did this after being asked to change positions during the match due to a teammate's injury. This was the first time in the history of the program Oak Hills has earned a point against Mason in GMC play.
Jake Swisshelm Boys' Soccer Jr
Jake slotted a goal to the far post against Mason giving Oak Hills a 2-0 lead in the second half of the match that eventually resulted in a 2-2 draw. Jake has improved his approach to the game and has been able to positively impact his play and our team this year. Jake has a 3.4 GPA.
Mariah Cornett Girls' Soccer Jr
Mariah, a junior forward, scored the game winning goal to defeat Mason 1-0 this past week. She also scored one goal in the team's win over Hamilton. Mariah currently has 5 goals and 1 assist for the Highlanders. Mariah attends Diamond Oaks and currently holds a 3.3 GPA.
Wil Kraus Football Soph
The sophomore quarterback was 18 of 27 passing for 183 yards and a touchdown. Wil had nine carries for 21 yards and two touchdowns. He is a multisport athlete who maintains a 4.0 GPA while taking numerous honors and AP classes.
John Blevins Football Sr
The senior safety collected seven tackles, six solo and one assisted, in his first defensive varsity start. John maintains a 3.79 GPA while taking a variety of honors and AP courses.
Eve Troutwine Girls' Cross Country Jr
Eve had a great first race of the season this past Saturday at the Troy Twilight Invitational. She placed as the team's #5 runner, running a time of 21:30. Eve is also a varsity Track and Field athlete as well as a varsity swim team athlete. She has a 4.0 GPA and is a member of the National Honor Society.
Alysse Niewoehner Girls' Cross Country Jr
Alysse is a positive, determined, and very coachable athlete who works hard every day at practice. She placed as the teams #6 runner at the Troy Twilight Invitational this past Saturday running just two seconds off of her personal best time. Alysse is also an outstanding student with a 4.0 GPA.